Print PDF
Thomas
A.
Demetrio
Partner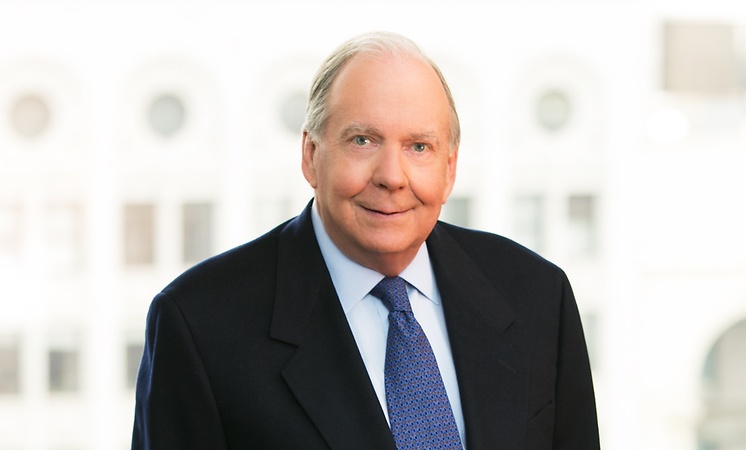 Profile
THOMAS A. DEMETRIO
A founding partner of the legendary law firm, Corboy & Demetrio, P.C., Thomas is a nationally renowned trial lawyer with an emphasis on medical negligence, aviation, product liability, and commercial litigation on behalf of plaintiffs.
In 2019, Thomas was ranked the top aviation attorney in the state by Illinois Leading Lawyers, based on peer review, and has ranked in the top five since 2007.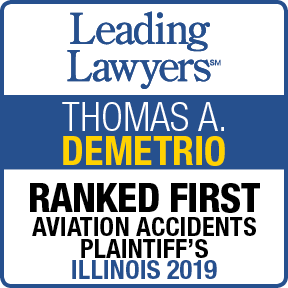 Since 2010, Thomas has been named one of the Top 10 attorneys by Illinois Super Lawyers, ranking first in 2017, 2018, 2019 and 2020.
In one of many milestones in Thomas' storied career as a trial attorney, he acquired the first ever 8-figure compensatory verdict in Illinois in 1983, which was upheld by the Illinois Supreme Court. Thomas has acquired well over $1 billion in verdicts and settlements. All of his verdicts have been paid, and he has never lost an appeal.
Thomas acquired the largest compensatory damages settlement in aviation litigation history - $25.2 million - for the death of a passenger in the US Air 737 jet crash outside Pittsburgh, Pennsylvania. It remains the top settlement for the death of a person in a commercial aviation wrongful death action.
The previous record, $25 million, in a case stemming from the crash of a United Airlines jet in Sioux City, Iowa, was also acquired by Corboy & Demetrio several years before.
Thomas has been included in every edition of Best Lawyers in America since 1987. The National Law Journal, in 1990, named Thomas one of the top 10 litigators in America. In 2014, the National Law Journal named Thomas as one of its inaugural 50 "Litigation Trailblazers and Pioneers," the only Illinois plaintiff's trial lawyer receiving that distinction.
In 2015, the prestigious Lawdragon, which had previously anointed Thomas "Dean of the Chicago Trial Bar," announced that, since its inception in 2005, Thomas was one of only 50 lawyers who had been named every year as one of its 500 leading lawyers in America, joining a select group that includes Supreme Court Chief Justice John Roberts and Associate Justice Anthony Kennedy.
As a leader of the bar, Thomas has served as President of both the Illinois Trial Lawyers Association and the 22,000-member Chicago Bar Association. For over 25 years, he has been a Fellow of: the American College of Trial Lawyers, the International Academy of Trial Lawyers, and the Inner Circle of Advocates.
Thomas is currently on the Board of Advisors of IIT Chicago-Kent College of Law, where he previously served as Chairman of the Board. He has also served as President of its Alumni Association. He has been honored by the law school by being named one of its 125 Alumni of Distinction, and he has been given its Alumni Merit Award, Professional Achievement Award, and Distinguished Service Award. In addition, he serves on the boards of the Constitutional Rights Foundation; Center for Elder and Disability Law; and Big Shoulders - Archdiocese of Chicago. He has also served on the boards of Illinois Institute of Technology, St. Ignatius College Prep and Mundelein Seminary, as well as the Notre Dame Law School's Advisory Council and the Dispute Resolution Research Center of the Kellogg Graduate School of Management, Northwestern University.
In 2015, Thomas was given the Hellenic Bar Association's Lifetime Achievement Award. In 2016, the Illinois Trial Lawyers Association bestowed on Thomas its highest honor, the Leonard M. Ring Lifetime Achievement Award. Also, in 2016, Thomas received the Chicago Bar Association's prestigious United States Supreme Court Justice John Paul Stevens Award – from Justice Stevens himself.
He is a nationally recognized and sought after lecturer on trial techniques and advocacy skills and has authored more than 60 continuing legal education articles in the field of civil litigation.
While Thomas served as president of the Chicago Bar Association, he wanted to impact the lives of Chicago's underprivileged children who, he sensed, would greatly benefit from quality mentoring. The Thomas A. Demetrio Award of Excellence was thus created recognizing the efforts of exceptional tutor/mentoring programs in Chicago communities. In 1995, with Thomas' inspiration, guidance, and support, the CBA and Chicago Bar Foundation created the Lawyers' Lend-A-Hand to Youth program, which thrives to this very day. In addition to the annual Demetrio Award, it has granted over $1.6 million to mentoring programs for underprivileged youths in the Chicago area.
Profiles
"The Everyman's Lawyer - Thomas Demetrio Studied the Masters, Then Became One," Cover Story, Kevin Davis, Illinois Super Lawyers, 2009
"Continuing the Tradition, Tom Demetrio - the Next Chapter from the Legendary Firm that Wrote the Book on Civil Trial Law," Cover Story, Keith Picher, Leading Lawyers Network Magazine, March, 2007
"The Best Lawyers in America," Steven Naifeh and Gregory White Smith, Woodward/White, 1987-present and named Chicago's Best Medical Malpractice Lawyer of the Year, 2011
"Who's Who," Maura Wall, Crain's Chicago Business, 2006-present
"Upscale Chicago," UPN/Fox Broadcasting, December, 2005
"Tragedy's Bottom Line: When a plane crashes, lawyers embark on a painstaking and often gruesome exercise to decide who should pay for lost lives," Blake Morrison, USA Today, January, 2000
"The NLJ Visits Illinois: Big Shoulders - The State's Top 10 Litigators," Margaret Cronin Fisk, The National Law Journal, November, 1999
"An Interview with Thomas A. Demetrio: "Because I Know You're a Trial Lawyer,"" Jim Bell, Trial Excellence, July 1996 and August 1996
"Profiles in Power - 100 of the Most Influential Lawyers in America," Margaret Cronin Fisk, The National Law Journal, listed among lawyers deserving of an honorable mention, March, 1991; April, 1994; April, 1997
"Profile: Thomas A. Demetrio: A Lawyer With a Heart," David M. Beam, The Chicago Bar Association Record, September, 1992
"What a Lawyer Looks for Before Suing You," Paul C. Gerber, Physicians Management, March, 1990
"Winning - Successful Strategies from 10 of the Nation's Top Litigators," Margaret Cronin Fisk, The National Law Journal, Feb. 12, 1990
"The 10 Largest Jury Verdicts of 1988," Marshal Sella, American Bar Association Journal, March, 1989
"Medical Malpractice," American Bar Association Journal, Interview, March, 1988
"50 Under 50," Emily Couric, The National Law Journal, 50 of the nation's top lawyers under the age of 50, June 5, 1989
"Elements of a $12 Million Personal Injury Cases," Janine Warsaw, Litigation Techniques, June, 1986
"Info Junkie: Thomas Demetrio," Laura Bianchi, Crain's Chicago Business, April 2008
Honors
Chicago Bar Association, President, 1992
Illinois Trial Lawyers Association, President, 1988
Medical Malpractice Lawyer of the Year in Chicago by The Best Lawyers in America, 2011
Inner Circle of Advocates, Fellow
Justice John Paul Stevens Award, Chicago Bar Association, 2016
Leonard M. Ring Lifetime Achievement Award, Illinois Trial Lawyers Association, 2016
Lifetime Achievement Award, Hellenic Bar Association, 2015
One of only 50 lawyers who has been named to "500 Leading Lawyers in America" since its inception, Lawdragon Magazine
One of the inaugural 50 named as Litigation Trailblazers & Pioneers by National Law Journal, 2014
One of 125 Alumni of Distinction, IIT Chicago-Kent College of Law, 2013
American College of Trial Lawyers, Fellow
American Bar Foundation, Fellow
American Inns of Court, Chicago Inn of Court, Master of the Bench
Association of Trial Lawyers of America's National College of Advocacy, Dean, College of Damages, 1987
AV rated - Highest level awarded - Martindale-Hubbell Law Directory
Big Shoulders, Archdiocese of Chicago, Board of Directors,
Center for Elder & Disability Law, Board of Directors
Chicago Bar Foundation, Life Fellow
Chicago Neurosurgical Center Leadership Committee, Chairman
"50 Under 50," The National Law Journal, 1989
Illinois Law Foundation, Fellow
Illinois Bar Foundation, Life Fellow and Charter Member
Illinois Institute of Technology, Chicago-Kent College of Law, Alumni Merit Award, 1989; Professional Achievement Award, 1990; Distinguished Service Award, 2000
Illinois Institute of Technology, Chicago-Kent College of Law, President, Alumni Association, 1988
Illinois Institute of Technology, Chicago-Kent College of Law, Downtown Center Campaign, Chair
Illinois Institute of Technology, Chicago-Kent College of Law, President's Council
Illinois Institute of Technology, Chicago-Kent College of Law, Professor Ralph Brill Endowed Faculty Chair Campaign, Chairman
Illinois Super Lawyers - Top 5% of all Illinois lawyers, ranking first in 2017, 2018, 2019 and 2020
Appointed to Illinois Supreme Court Committee on Jury Instructions, 1978-1997
International Academy of Trial Lawyers, Fellow
Leading Lawyers Network, One of the Top Ten Lawyers in Illinois in All Areas of Law, Consumer Law and Personal Injury Plaintiff's Law
Lawdragon - Top 500 Leading Lawyers in America, 2005-present
Legal Aid Society of Chicago/Metropolitan Family Services, Silver Family Circle Charter Member
Mundelein Seminary, Board of Advisors, 1992-1997
Northwestern University, J.L. Kellogg Graduate School of Management, Dispute Resolution Research Center Advisory Committee
St. Ignatius College Prep, Board of Trustees, 1990-1995
The Best Lawyers in America, Medical Malpractice Law and Personal Injury Litigation, 1987-present
"Top 10 Illinois Litigators," The National Law Journal, 1999
"Top 10 National Litigators," The National Law Journal, 1990
Trial Lawyers for Public Justice, Board of Directors
Who's Who - Crain's Chicago Business, 2006-present
Professional Affiliations
American Association for Justice (AAJ), formerly known as Association of Trial Lawyers of America (ATLA), Executive Committee Board Member, 2008-present; Editorial Board Member, 2008-present
American Bar Association (ABA), Task Force on the Contingency Fee, 2003-present
American Bar Foundation, Fellow
American Board of Professional Liability Attorneys
American College of Trial Lawyers, Fellow; Upstate Illinois State Committee, 1997-present; National Trial Competition Committee, 2004-present
Chicago Bar Association (CBA), President, 1992
Chicago Bar Foundation, Life Fellow; Board of Directors, 1994-1996, Lend A Hand Advisory Board, 1994-present
Chicago Inn of Court, Master of the Bench
Chicago Neurosurgical Center Leadership Committee, Chairman, 1991-1995
Dispute Resolution Research Center Advisory Committee, J.L. Kellogg Graduate School of Management Northwestern University, Chicago, 1993-present
Illinois Bar Foundation, Life Fellow
Illinois Institute of Technology Chicago-Kent College of Law, Board of Overseers, 1992-present, Chairman, 2011-present, Alumni Association, President, 1988-1989
Illinois Institute of Technology, Board of Trustees, 2011-present
Illinois State Bar Association (ISBA)
Illinois Supreme Court Committee on Pattern Civil Jury Instructions, 1978-1997
Illinois Trial Lawyers Association (ITLA), President, 1988
International Academy of Trial Lawyers, Fellow
Inner Circle of Advocates, Fellow
Lawdragon, Top 500 Leading Lawyers in America, 2005-present
Leading Lawyers Network Advisory Board, 2003-present
Legal Aid Society of Chicago/Metropolitan Family Services, Silver Family Circle Charter Member
Mundelein Seminary, Board of Advisors, 1992-1997
St. Ignatius College Prep, Board of Trustees, 1990-1995
Supreme Court Historical Society, 2004-present
The Center for Conflict Resolution, Board of Directors, 1990-1993
The Lawyers Club of Chicago
The Seventh Circuit Bar Association
The Society of Trial Lawyers
Trial Lawyers for Public Justice, Board of Directors, 1988-1997
University of Notre Dame Law School, Advisory Council, 1987-2002
Community Involvement
Big Shoulders - Archdiocese of Chicago, Board of Directors, 1993-present
Chicago Bar Association Lawyers Lend-A-Hand, Founder
Center for Disability and Elder Law, Board of Directors, 1990-present
Constitutional Rights Foundation Chicago, Board of Directors, 2009-present
Illinois Handgun Committee on Violence, Member, 1998-present
The Institute of Medicine of Chicago, Patient Safety Forum, Committee Member, 2002-present
Vatican Restoration Committee, 2000-present
Knight Commander of the Equestrian Order of the Holy Sepulchre of Jerusalem, 1992-present
Practice Areas
Practice Areas
News
Attorney-Authored Articles
Chicago Lawyer

,

03.01.2020

Chicago Daily Law Bulletin

,

11.2019

Chicago Lawyer

,

08.04.2016

Chicago Lawyer

,

09.01.2015

Chicago Lawyer

,

05.01.2014

Chicago Lawyer

,

12.12.2012

Your Witness: Lessons on Cross-Examination and Life from Great Chicago Trial Lawyers: Cross-Examination and Its Impact on Credibility

Law Bulletin Publishing Company

,

2008

Medical Malpractice Discovery, Illinois Civil Discovery Practice

Illinois Institute for Continuing Legal Education, 1983, Supp. 1984, 1992, 1994, 1996, 1998, 2002

Principles of Illinois Discovery: An Overview, Illinois Civil Discovery Practice

Illinois Institute for Continuing Legal Education (IICLE) - 1983, Supp. 1984, 1992, 1994, 1996, 1998, 2002

,

2002

Demetrio on Trial Practice - Daubert: Its Early Years

Demetrio on Trial Practice - Attorney-Client Privilege - Oh, Really?

More Cases We Remember - A Lesson In Credibility

Demetrio on Trial Practice - Offers of Proof, Why, When & How

CBA Record, June/July

,

2000

Demetrio on Trial Practice - Striving for Excellence

Demetrio on Trial Practice - Opening Statement: Some Initial Thoughts and Bullet Points

Demetrio on Trial Practice - Motions In Limine: Why, When and How to Use Them

Demetrio on Trial Practice - Batson: A Black and White Issue - Or Is It?

CBA Record, June/July

,

1999

Look for the Silver Lining - An Analysis of Weather-Related Air Crash Disasters

Illinois Bar Journal

,

04.1998

The Key to Final Argument? - Persuasion

A Practical Guide to Discovery in Medical Negligence Litigation

Illinois Civil Discovery Practice, Illinois Institute for Continuing Legal Education, 1996; Supp. 1998)

,

1998

A Practical Guide to Discovery in Medical Negligence Litigation

Illinois Civil Discovery Practice, Illinois Institute for Continuing Legal Education, 1996

,

1996

The Practical Application of Illinois Discovery Rules

Illinois Civil Discovery Practice, Illinois Institute for Continuing Legal Education, 1987, Supp. 1989

,

1989

A Practical Guide to Discovery in Medical Negligence Litigation

Illinois Civil Discovery Practice, Illinois Institute for Continuing Legal Education, 1987; Supp. 1989

,

1989

Finding and Using Experts

ABA - Tort and Insurance Practice Section Manual

,

1988

The Practical Application of Illinois Discovery Rules

Illinois Civil Discovery Practice (IICLE, 1987, Supp. 1989

,

1987

A Practical Guide to Discovery in Medical Negligence Litigation

Illinois Civil Discovery Practice, Illinois Institute for Continuing Legal Education, 1987, 1996; Supp. 1989, 1998)

Video Depositions: How and When to Use Them

Chicago Bar Association - Tort Litigation Committee

,

1987

The Due Process Clause of the Fifth Amendment Mandates that the Right to Trial by Jury, Guaranteed by the Seventh Amendment, be Preserved

ABA - Tort and Insurance Practice Section Manual, Trial Magazine

,

08.1985

Comparative Fault in Illinois: Its Past, Present and Future

Illinois Trial Lawyers Journal

,

1983
Seminars & Speeches
"How to Best Prepare Yourself as an Expert Witness," Forensic Expert Witness Association, 2010
"The Professors: Cameras in Chicago," WCCU-TV, 2010
"Trends in High Exposure and Complex Tort Litigation," Illinois Association of Defense Trial Counsel and Illinois Insurance Association, 2010
"Jury Deselection & Jury Management," Law Bulletin Seminars, 2010
"Case Evaluation Conference, Managing the High Verdict Potential Case," Law Bulletin Seminars, 2009
"Jury Selection Law and Technique - Jury Selection, or Is It? " Chicago Bar Association, College of Trial Advocacy, 2009
"Opening Statements: Strategies & Themes Conference," Law Bulletin Seminars, 2009
"Case Evaluation Conference," Law Bulletin Seminars, 2008
"Case Evaluation: When To Take the Case - When to Settle," Law Bulletin Seminars, 2007
"Opening Statement and Final Argument: Is There Really a Difference?" Academy of Florida Trial Lawyers, Florida, 2005
"Tort Reform Summit," Chicago Daily Law Bulletin, 2005
"2005 Advocacy Showcase - A One-Day Trial," Illinois Trial Lawyers Association, 2005
"Opening Statement - Telling The Story," Lessons From the Stars, D.C. Trial Lawyers Association, 2005
"Breaking Barriers, Building Bridges - Masters At Trial," Chicago Bar Association, 2004
"Tort Reform: Its Economic Impact Nationally and in Illinois," The Economic Club of Chicago, 2004
"Tort Reform Wars: The Future of the Civil Jury System in a Litigious Nation," The Economic Club of Chicago, 2004
"Electronics in the Courtroom," Inner Circle of Advocates, 2003
"2003 Advocacy Showcase ­ The Medical Negligence Case: A One-Day Trial," Illinois Trial Lawyers Association, 2003
"Jury Persuasion," Northwestern University School of Law, 2003
"Trial Superstars ­ One Lawyer's Perspective," John Marshall Law School, 2002
American Bar Association Section of Litigation Annual Meeting, Banff, Alberta, Canada, 2002
"Jury Selection Or Is It?", Chicago Bar Association, 2001
"Views of a Trial Lawyer," Rotary Club of Chicago, 2000
"The Past, Present and Future of Product Liability," American Bar Association, Litigation Section, 2000
"Rebuttal Argument," ATLA Convention, Chicago, Illinois, 2000
"Final Argument," Anatomy of a Trial Seminar, Illinois Trial Lawyers Association, 2000
"Product Liability" - A Debate, Federalist Society, 2000
"Mentoring," Professionalism Day, IIT Chicago-Kent College of Law, 2000
"Rebuttal Argument," Illinois Trial Lawyers Association, Past Presidents Seminar, 2000
"Proving Damages in Wrongful Death, Brain Injury and Spinal Cord Injury Cases," Chicago Bar Association, 1998
"Computer Graphics and Animation," International Academy of Trial Lawyers, Annual Convention, 1998
"How to Value the Personal Injury Case: Negotiating Strategies & Settlement Techniques" - American Bar Association/Association of Trial Lawyers of America Satellite Seminar, Washington, D.C., 1998
"Trial Practice in the 90's: Jury Selection, Focus Groups and Computer Graphic Animation," Illinois Institute for Continuing Legal Education, 1998
"Lessons Learned at Trial - Trial Superstars," Chicago Bar Association, Young Lawyers Section, 1997
"Shaping the Jury's Verdict -- Winning in the Age of Tort Reform," 48th Annual Advocacy Institute, The Institute of Continuing Legal Education, Michigan, 1997
"Closing Arguments," Ultimate Mentor Interactive Seminar, Illinois Trial Lawyers Association, 1996
"The Obligations of Lawyering in Today's World," Featured Speaker at the Annual Luncheon Meeting of the Franklin County Trial Lawyers Association, Ohio, 1996
"Jury Selection in the Industrial Product Liability Case" - The 13th Annual Conference on Product Liability Law - National Practice Institute - Chicago - 1995
"Direct and Re-Direct Examination -- Trial Demonstration" - ICLE's 46th Annual Advocacy Institute - The Institute of Continuing Legal Education - Ann Arbor, Michigan - 1995
"House Bill 20 - Redefining Tort Practice in Illinois," Chicago Bar Association, 1995
"Litigation Management: Manage Dollars or Activities?" Johnson Controls Annual Law Department Meeting, 1995
The Art of Persuasion, Demonstration: Plaintiff's Closing Argument, " Defense Research Institute, Trial Techniques Seminar,1995
"Litigating Medical Malpractice Claims - Plaintiff's Perspective," Annual American Law Institute, American Bar Association Committee on Continuing Professional Education, South Carolina, 1995
"Winning with the Masters," Last Chance Seminar, Louisiana Trial Lawyers Association, New Orleans, 1995
"Product Liability Litigation - A Practical Approach," Summation Strategies, Plaintiff's Perspective, Illinois Trial Lawyers Association, 1994
"Emerging Issues in Motor Vehicle Product Liability Litigation," The debate over New Restatement 2nd of Torts 105, discussion about changing the burden of proof in product liability cases. American Bar Association National Institute, Arizona, 1994
"Effective Direct and Cross-Examination" - Summer Boot Camp for Aspiring Litigators, Chicago Bar Association, 1994
"Closing Arguments" - Young Lawyers Section Trial Practice Course, Chicago Bar Association, 1994
"Medical Experts: Effective Direct and Cross Examination - Plaintiff's Perspective" - Illinois Association of Defense Trial Counsel, 1993
"Winning Closing Arguments," Illinois Trial Lawyers Association Annual Seminar, 1993
"Practical Problems of Litigating with Foreign Defendants," American Bar Association, Section of Tort and Insurance Practice, Washington, D.C., 1993
"Aspects of American Product Liability Law," International Institute, University College Dublin, Dublin, Ireland, 1993
"Aftermath of an Error" - The NBC/GM Truck-Safety Broadcast Controversy, Loyola University Chicago Communications Department, 1993
"Art of Summation," New York State Trial Lawyers Institute, 1992
"Plaintiff's Perspective: Closing" - Federation of Insurance & Corporate Counsel Winter Program, Florida, 1992
"Bad Faith in the '90s -- How to Avoid It" - Rollins Burdick Hunter Co. National Leadership Conference, 1992
"Discovery Practice in the '90s: A How-to Seminar Focusing on Competency, Efficiency & Civility," Moderator, Chicago Bar Association, 1992
"Opening Statement," Presentation of Plaintiff's Perspective in a Product Liability Case, Federal Bar Association National Convention, Ohio, 1992
"Is a Cap on Damages Socially Desirable?" - Plaintiff's Perspective, Illinois Provider Trust Annual Risk Management Meeting, 1992
"Jury Selection: Plaintiff's Perspective" - Point/Counterpoint Seminar, Illinois Trial Lawyers Association, 1992, 1993
"A Collection of Great Closing Arguments: Techniques and Demonstrations," California Trial Lawyers Association 26th Annual Tahoe Seminar, 1991
"1991 Best Evidence Seminar," American Bar Association, Section of Litigation, 1991
"Developing and Defending Employment Discrimination Cases," 42nd Annual Advocacy Institute, Michigan, 1991; California, 1992
"Final Argument," Joint Seminar of the Association of Florida Trial Lawyers and Georgia Trial Lawyers Association, Bermuda, 1991
"Effective Trial Techniques - From Pre-Trial Proceedings Through Summation," Chicago Bar Association, 1991
"Delivering a Knock-Out Punch in Opening Statement," Third Annual Tort Masters Seminar, sponsored by Alabama Trial Lawyers Association, Academy of Florida Trial Lawyers and Georgia Trial Lawyers Association, Georgia, 1991
"Winning with the Masters, Last Chance Seminar " Louisiana Trial Lawyers Association, New Orleans, 1991
"Using Final Argument to Enhance Damages," Alabama Trial Lawyers Association 38th Annual Mid-Winter Conference, 1990
"Do's and Don'ts of Direct Examination," Trial Notebook Series, Illinois Trial Lawyers Association, 1990
"Trial Symposium - Advocacy into the '90s," Ohio Academy of Trial Lawyers Thirty-Third Annual Convention, 1990
Address to the Professional Liability Committee of the American Bar Association, American Bar Association Annual Meeting, 1990
"How to Address Damages in the Opening Statement and Closing Argument," Chicago Bar Association, 1990
"Arguing Medical Negligence," Illinois Trial Lawyers Association, 1990
"Arguing and Maximizing Damages," Kansas Trial Lawyers' Association, 1990
"Proving and Disputing Liability in Tort Cases," Chicago Bar Association, 1989
"The Persuasive Final Argument," Illinois Trial Lawyers Association, 1989
"Ideas on Final Argument," A Weekend with the Masters, Georgia Trial Lawyers Association, 1989
The 46th Annual Belli Seminar, Massachusetts, 1989
"Negotiations," Chicago Bar Association, 1988
"Finding and Using Experts in Crash Cases." American Bar Association Tort and Insurance Practice Section, Massachusetts, 1988
"Comparative Fault," Indiana State Bar Association, 1988
"The Medical Malpractice Case," The 39th Annual Advocacy Institute, Michigan, 1988
Illinois Trial Lawyers Association, College of Advocacy, 1988
Seminar Chair, Association of Trial Lawyers of America, National College of Advocacy, Specialized Courses, Colorado, 1988
"Closing Argument," Chicago Bar Association, 1988
"Litigating Medical Malpractice Claims," American Bar Association, South Carolina, 1988
"Masters of Advocacy," Tort Expo , Tennessee Trial Lawyers Association, 1988
"Tort Reform or Deform?: A Public Debate," Illinois State Bar Association, 1988
"How Proof Relates to the Final Argument," Association of Trial Lawyers of America Mid-Winter Convention, Arizona, 1987
"Recent Trends in Evaluating, Proving and Arguing Damages," Litigating Medical Malpractice Claims, American Bar Association and California Continuing Legal Education, 1987
"Assessment of Damages," The Thorough Representation of the Catastrophic-Injured: Causation, Expert Assessments of Damages and Long Term Care Issues, The Rehabilitation Institute of Chicago, 1987
Dean: Association of Trial Lawyers of America National College of Advocacy, Specialized College on Damages, Colorado, 1987
"Video Depositions - How and When to Use Them," Chicago Bar Association Tort Litigation Committee, 1987
"The Art of Deposition Taking," Chicago Bar Association Tort Litigation Committee, 1987
"How to Find and Use the Expert Recreational and Sports Witness," Illinois Trial Lawyers Association, 1987
"Changes in Recovery Under the Illinois Wrongful Death Act," Chicago Bar Association Tort Litigation Committee, 1986
"Proper Negotiation Techniques," Annual Program on Negotiations and Counseling, National Institute of Trial Advocacy, 1986
"Our Tort System Must be Preserved," 21st Annual Meeting of the Congress of Organizations of the Physically Handicapped, 1986
"Today's Civil System of Justice," National Association of Independent Insurers, 1986
"Persuasive Trial Techniques," Hispanic National Bar Association Annual Convention, 1986
"Proper Evaluation of Product Liability Cases," Pick the Best, Decline the Rest, Illinois Trial Lawyers Association, 1986
"Lawyers and Doctors: A Time for Harmony," Illinois State Medical Society, 1986
"Ethics and Attorneys Fees," Northwestern University Law School, 1986, 1987, 1988, 1990
"How to Present the Expert Economist," Illinois Trial Lawyers Association, 1985
"How to Prove Loss of Companionship in the Case of a Deceased Spouse, Parent or Child," Proving and Disproving Damages in Personal Injury and Wrongful Death Cases Seminar, Illinois Institute for Continuing Legal Education, 1985
"Final Argument," The Ohio Academy of Trial Lawyers, 1985
"Consulting the Appropriate Witness and Assessment of Damages," The Thorough Representation of the Catastrophic-Injured, The Rehabilitation Institute of Chicago, 1985
"Anatomy of an Automobile Accident Trial," Practicing Law Institute, 1985
"Litigating Medical Malpractice Claims," American Bar Association and Massachusetts Continuing Legal Education, 1985
"Jury Deselection," Trial Superstars Seminar, Chicago Bar Association, Young Lawyers Section, 1985
"Closing Argument," Roscoe Pound Foundation Workshop, Association of Trial Lawyers of America, 1985
"Evaluating, Proving and Arguing Damages," "Litigating Medical Malpractice Claims," American Bar Association, California Continuing Legal Education, 1984
"Closing Argument -- The Plaintiff's Perspective," The Practical Approach to Trial Advocacy Seminar, Illinois Trial Lawyers Association, 1984
"Assessment of Damages," Third Annual Symposium on Head Trauma, Spinal Cord and Amputation for the Litigator, The Rehabilitation Institute of Chicago, 1984
"Trial Tactics in Governmental Liability Suits," Association of Trial Lawyers of Iowa, 1984
"Deposition Strategy and Technique," Chicago Bar Association, Young Lawyers Section, 1983
"Recent Developments in Evaluating and Proving Damages," "Litigating Medical Malpractice Claims," American Bar Association, California Continuing Legal Education, 1983
"Plaintiff's Final Argument in a Comparative Negligence Case," Association of Trial Lawyers of Iowa, 1983
"Plaintiff's Final Argument," Illinois Defense Counsel's Tactics Seminar, 1983
"How to Establish the Medical Opinion," Second Annual Comprehensive Evidence Seminar, Illinois Trial Lawyers Association, 1983
"Effective Persuasion at Trial," Second Annual Presidents Seminar, Illinois Trial Lawyers Association, 1983
Plaintiff's co-counsel in two videotape series, "Training the Advocate," 1983 and "Training the Advocate: The Pretrial Stage," 1985, produced by National Institute for Trial Advocacy and The American Bar Association Consortium for Professional Education
Federal Trial Bar Advocacy Program, 1983
"Illinois Product Liability Practice," Illinois Institute for Continuing Legal Education, 1980
Instructor, Product Liability, IIT Chicago-Kent College of Law, 1979-1980
The Expert Witness in the Courtroom," American Society of Safety Engineers, 1979
Determining and Proving Damages," NYLJ, Colorado, 1978
National Institute for Trial Advocacy, Regional, 1978; National, 1983
"Cross Examination," American Bar Association, Litigation Section, California, 1977
Major Media Coverage
Washington Post

,

05.05.2019

Chicago Tribune

,

04.18.2019

Chicago Sun-Times

,

08.11.2018

CBS2 - WBBM-TV

,

08.06.2018

New York Times

,

06.22.2018

Chicago Tribune

,

06.22.2018

Sports Illustrated

,

06.22.2018

Los Angeles Times

,

06.02.2018

The Points Guy

,

04.20.2018

The Points Guy

,

04.19.2018

Washington Post

,

04.09.2018

Trial Magazine

,

02.01.2018

Chicago Sun-Times

,

09.14.2017

NBC5 Chicago/WMAQ-TV

,

09.14.2017

People Magazine online

,

09.06.2017

Sports Illustrated

,

08.01.2017

New York Daily News

,

07.31.2017

Nightline, Interview of Thomas Demetrio on airline passenger rights and Dr. David Dao

NBC Nightly News Interview of Thomas Demetrio about Dr. David Dao and airline passenger rights

Squawk Box, CNBC 

,

04.24.2017

Today Show, NBC News

,

04.04.2017

Chicago Daily Law Bulletin

,

06.15.2016

Chicago Lawyer Magazine

,

02.2015

The National Law Journal

,

2014

Chicago Daily Law Bulletin

,

01.17.2014

Chicago Daily Law Bulletin

,

09.09.2013

Chicago Daily Law Bulletin

,

08.29.2013

Chicago Daily Law Bulletin

,

05.14.2013

Chicago Daily Law Bulletin

,

05.14.2013

Chicago Daily Law Bulletin

,

05.14.2013

Chicago Daily Law Bulletin

,

02.07.2013

Chicago Daily Law Bulletin

,

08.14.2012

Illinois Super Lawyers

,

03.2009

Leading Lawyers Magazine

,

09.07.2007

Chicago Daily Law Bulletin

,

04.09.1990
Education
Education
IIT Chicago-Kent College of Law, J.D., 1973
University of Notre Dame, B.A., 1969
Admissions
Bar &amp Court Admissions
Illinois, 1973
Florida, 1973
U.S. District Court, Northern District of Illinois
U.S. Court of Appeals, Fifth Circuit
U.S. Court of Appeals, Seventh Circuit
U.S. Court of Appeals, Ninth Circuit