PDF
Thomas A. Demetrio Presented 2016 Leonard M. Ring Lifetime Achievement Award
06.14.2016
Corboy & Demetrio Founder Thomas A. Demetrio was awarded the prestigious Leonard M. Ring Lifetime Achievement Award at the Illinois Trial Lawyers Association (ITLA) convention on Friday, June 10, 2016.
Upon accepting the award, Demetrio, whose firm worked closely with Ring on high-profile cases, including the Tylenol cyanide poisoning litigation in the 1970s, said in his acceptance speech,
"Leonard was sage, he was noble, he was honorable and his legacy, his lore and his spirit is his parting gift to us, and I'm proud to play a small role to pass it on to those who follow."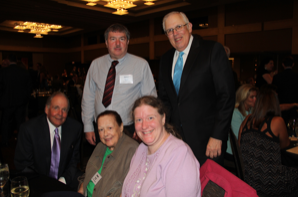 Donna Ring, on left, daughter Susan Ring, on right, and son Robert Ring, standing behind and center, visit with Thomas Demetrio, on far left, and Edward Willer, on far right, after the award presentation on June 10, 2016.
Corboy & Demetrio Partner Edward G. Willer, who once worked for the late Ring, presented Tom with the award, telling the crowd of nearly 300 attorneys, "Tom, through his dedication and zeal in protecting the rights of victims and their families, both in the courtroom and through the legislative process, has indeed continued the legacy of Leonard M. Ring."
According to Illinois Trial Lawyers Association, which includes the award presentation at its annual installation dinner, the criteria of the award are as follows: "The recipient is someone who has devoted, as Leonard did, a substantial part of their life and their practice to ITLA, someone who has done more than is called for. Someone who has the standards of Leonard, the work ethics of Leonard and the commitment to ITLA that Leonard had. At the same time, it keeps alive the memory of Leonard Ring."
Thomas Demetrio is a prominent trial lawyer and focuses on cases involving medical malpractice, product liability, airplane crash and commercial litigation on behalf of plaintiffs.
Attorneys