Print PDF
Francis
Patrick
Murphy
Partner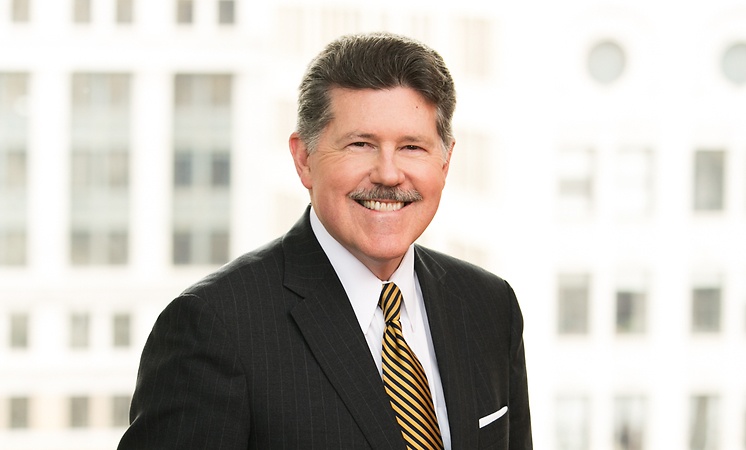 Profile
Francis Patrick Murphy - Patrick Murphy - a Chicago personal injury lawyer, has been with the law firm of Corboy & Demetrio since 1983 and became a partner in 1991. He regularly handles complex personal injury and wrongful death cases involving porch and deck collapses, aviation negligence, construction negligence, product liability, premises liability and claims resulting from railroad, automobile, and other vehicular negligence.
Patrick is a highly sought after lawyer in porch and deck collapse cases due to his extensive experience and numerous successes. Patrick represented several victims of the 2003 Lincoln Park porch collapse and was instrumental in brokering a global settlement of $16.6 million. He secured a record-setting $4 million settlement for a young woman who fell from a porch when a railing broke away. It is the highest settlement in Illinois for an injury resulting from a defective porch railing. In another case, Murphy was successful in securing $2.15 million for a couple who were injured when a deck railing gave way and they fell to the ground. He also represented the surviving family of a young man killed when he fell through a porch railing at a New Year's Eve Party. The decedent's blood alcohol level was .345 when he fell. Mr. Murphy settled the case for $2.7 million. He also represented a McHenry County woman who fell one story as she stepped onto her deck from her kitchen, settling for $1 million.
Patrick has more than fifty settlements and verdicts of $1 million or more. Among his many accomplishments is a $7.5 million settlement that was secured on behalf of his client, a nationally renowned oboist from the Chicago Lyric Opera and Grant Park Symphony, whose musical career was ended when she was struck by a Chicago Transit Authority bus while crossing a Chicago street. Patrick also obtained a record-high settlement of $2.5 million for the death of an 88-year-old woman, who was killed when the car she was riding in was hit from behind by another car. In another case involving senior citizens, Patrick secured a $6.8 million settlement for a 69-year-old woman and her 71- year-old husband for injuries she sustained when she was hit by a bus.
Patrick was profiled in Leading Lawyers Magazine - Consumer Edition for 2011, in an article entitled, "Gentleman Lawyer for Injury Victims." The article highlights Murphy's extensive experience and success in representing victims in porch collapse cases. The media often reports on Patrick's outstanding record of success and his extensive experience. His verdict in a high-profile railroad case was chronicled on "Good Morning America," ABC's national television morning news show. He was highlighted on "Inside Edition" for his handling of one of the cases from the Chicago porch collapse tragedy of June 29, 2003. In a show dedicated to child safety issues, Oprah featured Patrick's wrongful death case of 12-year-old Catherine "Casey" Fish, who choked to death while playing a game of Chubby Bunny - stuffing marshmallows into one's mouth - in her grade school classroom. And recently, he was featured on Fox News for his representation of a woman seriously injured when her second story deck collapsed.
Patrick also served as a legal commentator for Fox News Chicago regarding a young man who fell to his death at a Chicago Bear's game at Solider Field.
Since 2020, Patrick has been named to The Best Lawyers in America. Recognized as an attorney in the top 5% of all Illinois lawyers by the Leading Lawyer Network, Patrick is an Illinois Super Lawyer and has an AV rating - the highest level awarded for professional excellence - from the Martindale-Hubbell Law Directory. He is also a designated member of Lawdragon 500 Leading Lawyers in America, a distinction awarded to only 500 of the 1.2 million lawyers in the United States. Since 2019, Patrick has been selected to Lawdragon 500 Leading Plaintiff Consumer Lawyers. Since 2015, Patrick has been selected to the national Irish Legal 100, the top 100 attorneys and judges of Irish descent.
The author of numerous legal articles, Patrick is a frequent lecturer for various bar associations and is an adjunct professor at Loyola University Chicago School of Law, where he has regularly taught since 1987.
Patrick was appointed to the Board of Directors of Lawyers' Assistance Program by the Illinois Supreme Court, serving as President from 2013-14, 2014-2015, and 2019-2020. He served as Secretary from 2015-2016, Treasurer from 2017-2018, and Vice-President from 2018-2019.
In 2019, he was appointed to the Board of Directors of the Catholic Lawyers Guild of Chicago.
Mr. Murphy began his career as an Assistant Public Defender with the Cook County Public Defender's Office. Before becoming a lawyer, he worked for A.B. Dick Company in marketing and sales.
Honors
AV Rated - highest level awarded - Martindale-Hubbell Law Directory
The Best Lawyers in America, 2020-present
Illinois Super Lawyers - Top 5% of all Illinois attorneys
Irish Legal 100 - Named one of the top 100 attorneys and judges of Irish descent
Lawyers' Assistance Program, President of Board of Directors, 2019-2020, 2014-2015, 2013-2014;Vice-President, 2018-2019, Treasurer, 2016-2017; Secretary, 2015-2016
Leading Lawyers Network Member - Top 5% of all Illinois attorneys
Lawdragon 500 Leading Lawyers in America - Named one of the top 500 lawyers in the nation.
Lawdragon 500 Legend (for being named to Lawdragaon 500 for 10 years)
Lawdragon 500 Leading Plaintiff Consumer Lawyers
The National Association of Distinguished Counsel - Nation's Top One Percent
Professional Affiliations
American Association for Justice (AAJ), formerly known as Association of Trial Lawyers of American (ATLA)
American Bar Association (ABA)
Catholic Lawyers Guild of Chicago
Chicago Bar Association (CBA), Judicial Evaluation Committee
Hazelden Chicago, Board Member
Illinois State Bar Association (ISBA)
Illinois Trial Lawyers Association (ITLA)
Lawyers' Assistance Program (LAP)
Loyola University Chicago School of Law, Adjunct Professor, 1987-Present
The National Association of Distinguished Counsel
The Society of Trial Lawyers
News
Attorney-Authored Articles
Negligent Issuance of a Life Insurance Policy

IICLE, Illinois Causes of Action - Elements, Forms & Winning Tips: Tort Actions, Supp.

,

2005

Making the Independent Medical Examiner Your Expert Through the Use of a Ben Franklin Balance Sheet

Making the Defense Medical Expert Your Expert in a MIST Case Using a Ben Franklin Balance Sheet

Association of Trial Lawyers of America, Reference Publication

,

2004

Intentional Infliction of Emotional Distress

Elements, Forms & Winning Tips: Tort Actions, Illinois Causes of Action, Illinois Institute for Continuing Legal Education

,

2002

Packaging Forensics: Package Failure in the Courts - A Shattered Bottle...a Shattered Life

Lawyers and Judges Publishing Company, Inc.

,

2000

The Use of Demonstrative Evidence in Trial: The Millennium and Beyond

American Bar Association Tort and Insurance Practice Section

,

1998

Pretrial Trade Secrets of the Pros - Those Precious Few Interrogatories

Practical Approach for Uninsured/Underinsured Motorist Claims

Professional Education Systems, Inc.

,

1990

Wrongful Death Cases - Procedural Aspects

Chicago Bar Association

,

1990

How to Direct Examine the Economist

Chicago Bar Association

,

1989

The Art & Science of Jury Selection
Speaking Engagements and Presentations
"When to Settle - Considerations," Case Evaluation Seminar, Law Bulletin Publishing Company, 2007
"When to Take a Case - Considerations," Case Evaluation Seminar, Law Bulletin Publishing Company, 2007
"Making the Defense Medical Expert Your Expert in a MIST Case Using a Ben Franklin Balance Sheet," Association of Trial Lawyers of America, Massachusetts, 2004
"Demonstrative Evidence--The Millennium and Beyond," Price Waterhouse Coopers 1998 Legal Tech Conference, 1998
"The Use of Demonstrative Evidence in Trial," Masters in Trial, Honoring Leonard Ring Seminar, American Bar Association Seminar, 1998
"Pretrial Trade Secrets of the Pros - Those Precious Few Interrogatories," Illinois Trial Lawyers Association, 1996
"Wrongful Death Cases - Procedural Aspects," Chicago Bar Association, 1993
"Proving Injury - Pain & Suffering, Loss of Consortium," Chicago Bar Association, 1992
Judge, National Appellate Court Competition, Law Student Division, American Bar Association
"How to Direct Examine the Economist," Chicago Bar Association, 1989
"Jury Selection Practice and Procedure," The Art and Science of Jury Selection Seminar, Illinois Institute of Continuing Legal Education, 1988
"Bill 1200 - Overview of Tort Reform Affecting Corporations," American Society of Corporate Secretaries, 1987
"Gun Control - Illinois Perspective," Criminal Justice Institute, 1983
Major Media Coverage
Chicago Daily Law Bulletin

,

01.19.2023

Chicago Daily Law Bulletin

,

08.01.2022

Chicago Daily Law Bulletin

,

12.28.2021

Chicago Sun-Times

,

08.11.2018

CBS2 - WBBM-TV

,

08.06.2018

The Denver Post

,

06.22.2018
Education
Education
IIT Chicago-Kent College of Law, J.D., 1975
Northwestern University, B.S., 1970
Admissions
Bar &amp Court Admissions
Illinois, 1975
U.S. District Court, Northern District of Illinois, 1975