PDF
Named Partner Tom Demetrio Featured on Bulletproof Blog
06.2009
Named Partner Tom Demetrio was recently interviewed by Larry Smith of Bulletproof Blog on the next significant change in the civil justice system and the future of medical malpractice lawsuits. The interview can be accessed here or read below.

What's Next: The Plaintiff's Perspective - Courtroom Sea Change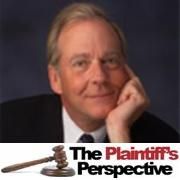 In this regular feature, Bulletproof interviews top plaintiffs' attorneys for their perspective on the crises likely to affect businesses in the near future. Today we talk to Thomas Demetrio, partner at Chicago's fabled Corboy & Demetrio, who has won over $130 million in jury verdicts, including the largest personal injury verdict ever upheld by the Illinois Supreme Court, along with over $1 billion in settlements.
You've seen the civil justice system undergo a number of transformations. What's the next one ahead?
Thomas Demetrio: There will be significant impact on litigation as corporations hire more top trial attorneys to represent them in big cases against other corporations. Now, this is nothing new, as a number of lawyers on my side of the fence are often hired for business-to-business litigation.
However, those tremors are about to become a full-scale quake because of the economy. Corporations are pressing hard for non-hourly billing and their traditional defense firms have trouble coming up with arrangements that are second nature to firms like my own, which have always survived on contingency fees. Meanwhile, tort reform is certainly motivating plaintiffs' lawyers to seek such opportunities.
Chevron called me a few years ago to represent them in a case against GE involving defective home furnace parts. It worked out very well. Now if companies like Chevron are calling lawyers like me on their own initiative, imagine what will happen in this economy when well-known plaintiffs' lawyers more actively market to in-house counsel and C-Suites. It's something that I, for one, have every intention of doing.
Is this just a matter of more cost-efficient litigation management? Or does this trend have greater significance for companies in terms of their own ongoing interests?
Thomas Demetrio: For businesses, there are at least two immediate points of impact beyond the (not inconsiderable) fact that they can save hundreds of millions by litigating on contingency. First, when a company hires a trial lawyer, it sends an unmistakable message that it will actually try the case if it needs to. Simply as a litigation strategy, it can force the other side's hand.
Second, I believe we are seeing a whole new way in which businesses view litigation. Listen to companies beset today by economic adversity. They're telling their lawyers, "Find us ways to make money! Find us ways to monetize our assets!" Well, smart companies are now starting to realize that litigation is an asset, not just overhead.
Can you address the future of med-mal practice, particularly in light of President Obama's greater receptivity to reining in lawsuits?
Thomas Demetrio: To be sure, plaintiffs' firms are revamping their approach, but tort reformers miss an important fact – that good firms reject many more cases than they take on, which was true before tort reform. We literally reject 21 of 22 personal injury cases presented to us. The ones we pursue have merit and strong ROI potential under any circumstances.
In this context, let me say something about Sorry Works. ["Sorry Works" is a legislative and grassroots movement based on the idea that honest admission of error by healthcare professionals deters malpractice lawsuits.] Sorry Works works! So many plaintiffs are driven by resentment of the arrogance and intransigence of the people who have hurt them. Replace that arrogance with honesty and genuine regret, and you certainly do deter many lawsuits.
A shrewd application of Sorry Works to non-medical situations may be coming next. The same candor that can mitigate liability for a hospital can likewise do so for a car manufacturer or a chemical company. I know that lawyers and spokespersons for businesses have publicly suggested taking a closer look at Sorry Works in non-medical situations, and I wouldn't be surprised (or upset) to see it part of their litigation strategies.
Larry Smith is Senior Vice President of Levick Strategic Communications and a contributing author to Bulletproof Blog.
Attorneys