PDF
Corboy & Demetrio Sponsors Horse of Honor to Support Police Foundation
11.03.2014
Corboy & Demetrio is proud to announce its sponsorship of a horse in the public art program, Horses of Honor, created by the Chicago Police Memorial Foundation. Corboy & Demetrio has a longstanding tradition of supporting the CPMF, which helps families of catastrophically injured and fallen Chicago police officers.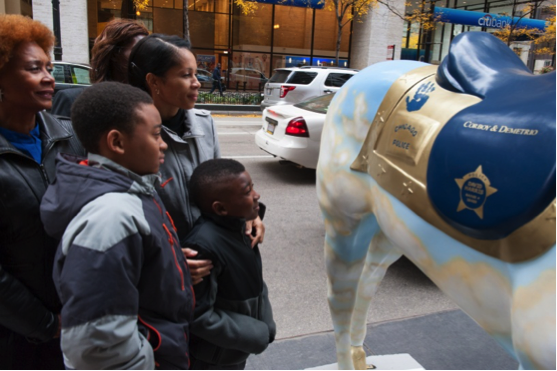 The family of fallen officer David Harris look at the horse dedicated to him outside of Corboy & Demetrio's office.
Each horse in the Horses of Honor program is designed to resemble Chicago's Mounted Patrol Unit horses and is dedicated to a fallen Chicago police officer. Corboy & Demetrio's horse, painted by Chicago artist Chris Campagna, honors Officer David Harris, 42, who was killed while driving home from work by a van that was being chased by Calumet Park Police on March 14, 2014.
Officer Harris' sons, David Jr., 11, and Caleb, 9, put their hand prints on the horse's saddle at an unveiling for the Harris family and the law firm's employees on Oct. 29,, 2014, outside Corboy & Demetrio's offices at 33 N. Dearborn Street.
Corboy & Demetrio has been a supporter of Chicago Police Memorial Foundation fundraising campaigns for many years. William T. Gibbs serves on the Advisory Board of CPMF.
Corboy & Demetrio Founding Partner Thomas A. Demetrio, who himself is a Lifetime Member of the 100 Club, stated, "Policemen have always been near and dear to our firm with the genesis dating back to when Philip Corboy's dad served as a Chicago police officer."
Since 1853, more than 500 Chicago Police officers have sacrificed their lives to protect our city. Corboy & Demetrio's horse is one of 97 on display throughout the city and will be auctioned off on Dec. 3rd to the highest bidder at a CPMF benefit.
Attorneys