PDF
Thomas Demetrio's Legacy of Helping At-Risk Youth in Chicago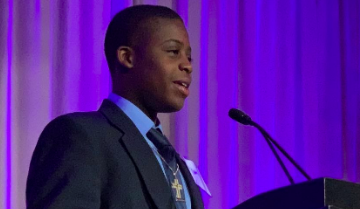 Devon Collins, Christ King High School Student on April 25, 2019
In 2019, Devon Collins, a student at Christ the King High School, addressed the crowd of several hundred attorneys, families and friends who filled a Chicago ballroom to talk about the impact of Chicago Lights Tutoring program on his life.
"Chicago Lights is a home for me and so many others," said Collins, who has received tutoring from Chicago Lights since the first grade. "I am so happy I went to Chicago Lights tutoring because they inspire me to be the best that I can be," he added.
Collins spoke along with directors of Chicago Lights, which received the Thomas A. Demetrio Award of Excellence during the Chicago Bar Association Lawyers Lend-A-Hand Annual Spring Awards Dinner on April 25, 2019. It marked the 27th year the Award had been granted to a Chicago area tutoring and mentoring program.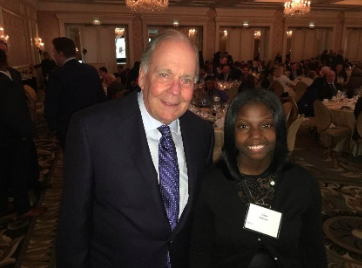 Thomas A. Demetrio and AMACHI Student Ameia Johnson on April 25, 2018
The award's genesis dates back to 1992 when Thomas A. Demetrio served as President of the Chicago Bar Association and wanted to impact the lives of Chicago's at-risk children who, he sensed, would greatly benefit from quality mentoring. And so, he created the Thomas A. Demetrio Award of Excellence to recognize the efforts of exceptional tutor/mentoring programs in Chicago communities.
In 1995, with Thomas' inspiration, guidance, and support, the CBA and Chicago Bar Foundation created the Lawyers' Lend-A-Hand to Youth program, which thrives to this very day. In addition to the annual Thomas A. Demetrio Award, it has granted more than $1.6 million to mentoring programs for underprivileged youths in the Chicago area.
"I am extremely proud of all of the work Lend-A-Hand has done and the difference the grants and Award have made in the lives of underprivileged children. I am also impressed with the dedication of the extraordinary people who run the tutoring and mentoring programs," Demetrio said. "They are our heroes."
In 2016, out of the desire to reach even more of Chicago's at-risk youth, Lawyers Lend-A-Hand created its own tutoring program, under the guidance of Executive Director Kathryn McCabe.
Lend-A-Hand Tutoring provides free one-to-one tutoring, initially to 25 and now to more than 50 students from the Englewood community on the south side of Chicago. All of the students attend the Montessori School of Englewood, a public charter school and Lend-A-Hand's partner in the venture. Each week during the school year, a Lend-A-Hand bus transports the children to the Chicago Bar Association headquarters where they are matched with volunteer tutors, which have included Corboy & Demetrio attorneys and staff.
The exemplary Chicago-area tutoring and mentoring programs that have been awarded the Thomas A. Demetrio Award of Excellence include: Chicago Lights Tutoring; Chicago-Lawndale AMACHI Mentoring Program; America Needs You; Cluster Tutoring; Minds Matter; Urban Life Skills; Partnership to Educate & Advance Kids (PEAK); Jewish Child & Family Services (JCFS) and many others.
Attorneys