PDF
Tom Demetrio Presents Award of Excellence to PEAK
02.2010
The 2010 Thomas A. Demetrio Award of Excellence was recently given to the Partnership to Educate & Advance Kids (PEAK) by the Lawyers Lend-A-Hand to Youth program. The $10,000 award, funded annually by the Corboy & Demetrio law firm, is given to the most exemplary tutor/mentor program in Chicago.
Tom Demetrio presented the award to PEAK on behalf of his law firm. He said, "What distinguished PEAK from the other programs that applied for the grant was the four-year commitment of their volunteer mentors, who offer consistent mentoring for the student throughout their high school career."
"I don't often come to the presenting ceremony, but when I got to know what PEAK does with Holy Trinity, I had to be here. Lend-A-Hand's focus has become to try to help those programs that deliver consistency, and I must tell you, bar none, the PEAK program is the finest I've ever come across. It Is my honor to be affiliated not only with such a great high school with the history of Holy Trinity, but also with the wonderful mentoring program of PEAK."
For over 12 years, PEAK, a non-profit organization, has provided mentoring services and scholarships for at-risk Chicago youth to attend Holy Trinity. It has helped nearly 200 students to receive a quality education along with the support and guidance of adult role model mentors.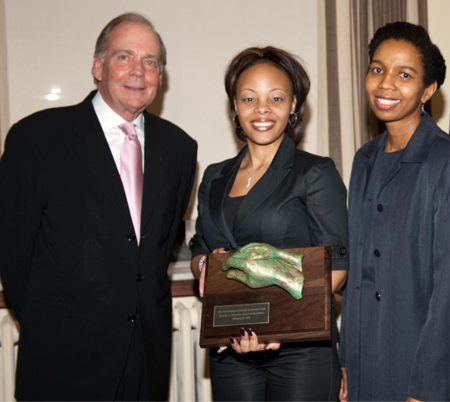 From Left to Right Tom Demetrio, Toinette Gunn, PEAK Executive Director, & Genita Robinson, Lend-A-Hand Executive Director
Attorneys