Print PDF
William
T.
Gibbs
Partner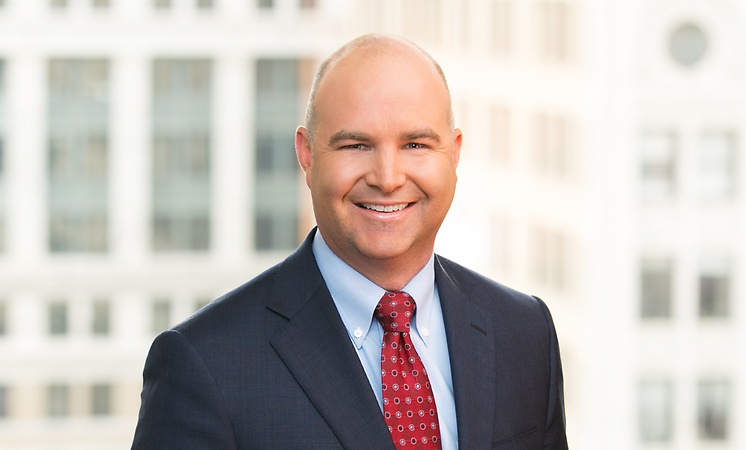 Profile
William T. Gibbs is a partner at the Chicago personal injury and medical malpractice law firm of Corboy & Demetrio and concentrates his practice on cases arising from railroad negligence, automobile collisions, participation in sports, unsafe pharmaceuticals or medical devices, construction negligence, medical negligence, premises liability, product liability and aviation litigation.
For more than a decade at Corboy & Demetrio, Bill has obtained numerous record-setting and multi-million dollar verdicts and settlements on behalf of his clients. His list of representative clients demonstrates the diversity of his practice.
Bill secured a $29.6 million verdict on behalf of a woman who was brain damaged in the derailment of a speeding train in Chicago. The verdict is the largest in Illinois for an individual injured in a mass transit crash. In a Federal District Court case, he obtained a $6.6 million verdict for a family injured in an automobile collision. It was the largest verdict ever in that Court.
In another case, Bill secured a $6.75 million settlement for the family of Justyna Palka, who was a pedestrian killed by a tour bus in Chicago.
In his sports liability practice, Bill represented Hall-of-Fame White Sox player Frank Thomas in a medical malpractice action and the matter was "resolved amicably."
Bill currently represents numerous retired NFL players and the Estate of former Chicago Bear Dave Duerson against the NFL in litigation stemming from concussions and CTE suffered by Duerson.
Bill was appointed to the Plaintiff's Executive Committee by U.S. District Court Judge Susan Richard Nelson in Minnesota, which is overseeing individual lawsuits against the National Hockey League. In addition to this leadership role in the multi district litigation, Bill represents the Estate of Steve Montador, an NHL player who died at the age of 35 after suffering multiple concussions and the effects of CTE.
Bill has appeared on national and international television networks discussing sports and C.T.E., including CNN, FOX Business News, Al Jazeera and Canadian National TV. He has been quoted numerous times by national and international media, including the New York Times, ESPN and Sports Illustrated.
He is currently a regular contributor to the Sporting Judgment section of the Chicago Daily Law Bulletin where he writes the column, Sports Torts.
Bill received a 2017 Trial Excellence Award from the Law Bulletin Publishing's Jury Verdict Reporter for having the Highest Reported Verdict or Settlement in Jackson County.
In 2020, Bill was named to the highly-selective Illinois Super Lawyers in the area of personal injury, a designation he's earned for five consecutive years. From 2009-2014, he was designated an Illinois Super Lawyer, Rising Star.
In 2020, Bill was selected to the elite national legal guide, Lawdragon 500 Leading Plaintiff Consumer Lawyers.
In 2019, he was selected to the prestigious Illinois Leading Lawyers, an honor he's received since 2015.
In October, 2009, Bill was named by the Law Bulletin Publishing Company, which publishes the Chicago Daily Law Bulletin and Chicago Lawyer magazine, to its list of "40 Illinois Attorneys Under Forty to Watch."
In 2013, The National Trial Lawyers named Bill one of the Top 40 Under 40 Lawyers in the country, and in 2019, he was named to The National Trial Lawyers: Top 100 Trial Lawyers for the fifth consecutive year. In 2017, The National Trial Lawyers named Bill to NTL's Brain Injury Trial Lawyers Association Top 25.
Since 2018, he's been named to the highly-selective, national Irish Legal 100.
In 2008, Bill authored an article, "A Quick Guide to the Illinois Dead Man's Act," which was published in the Illinois Bar Journal, a publication of the Illinois State Bar Association. Bill is a frequent panelist and lecturer to local and state bar associations, CLE seminars and law schools throughout the country.
Active in many community organizations, Bill is a member of the Chicago Police Memorial Foundation Advisory Board.
In 2018, Bill was appointed to the Advisory Board of The Mike Adamle Project: Rise Above, a new initiative created to provide tools, resources and support to patients living with symptoms of CTE.
Bill was formerly a high school teacher and varsity football, basketball, and baseball coach. While at the University of Notre Dame, he was a defensive back on the varsity football team.
Honors
The Society of Trial Lawyers, 2018-present
Trial Excellence Award from the Law Bulletin Publishing's Jury Verdict Reporter for having the Highest Reported Verdict or Settlement in Jackson County, 2017
Lawdragon 500 Leading Plaintiff Consumer Lawyers, 2020
Leading Lawyers, 2014-present
Illinois Super Lawyer 2015-present
The National Trial Lawyers: Brain Injury Trial Lawyers Association Top 25, 2017-present
The National Trial Lawyers: Top 100 Trial Lawyers, 2014-present
The National Trial Lawyers: Top 40 under 40, 2013
Irish Legal 100, 2018-present
"40 Illinois Attorneys Under Forty to Watch," Law Bulletin Publishing Company, 2009
Illinois Super Lawyer Rising Star, 2009-2014
CALI, Excellence for the Future Award, Philosophy, 2004
CALI, Excellence for the Future Award, Legal Writing, 2002
Professional Affiliations
American Association for Justice (AAJ) formerly known as American Trial Lawyers Association (ATLA)
Illinois Trial Lawyers Association (ITLA), Co-Chair of the Product Liability & Insurance Law Committee, 2019; Board of Managers, 2017-2018
Chicago Bar Association (CBA), Civil Practice Committee, Tort Litigation Committee
National Trial Lawyers Association: Brain Injury Trial Lawyes Association 2017, 2018
Notre Dame Law Association
Fenwick Bar Association, Treasurer, 2005-2008
Community Involvement
Chicago Police Memorial Foundation Advisory Board Member
Mercy Home for Boys & Girls
The Mike Adamle Project Advisory Board
Our Lady of Mercy Legal Clinic
Oz Park Baseball Association Board Member
Ronald McDonald House
News
Attorney-Authored Articles
Chicago Daily Law Bulletin

,

11.26.2019

Chicago Daily Law Bulletin

,

09.24.2019

Chicago Daily Law Bulletin

,

07.30.2019

Chicago Daily Law Bulletin

,

05.28.2019

Chicago Daily Law Bulletin

,

04.03.2019

Chicago Daily Law Bulletin

,

02.06.2019

Chicago Daily Law Bulletin

,

11.2018

Chicago Daily Law Bulletin

,

09.2018

Chicago Daily Law Bulletin

,

07.24.2018

Chicago Daily Law Bulletin

,

05.22.2018

Chicago Daily Law Bulletin

,

01.23.2018

Chicago Daily Law Bulletin

,

11.2017

Chicago Daily Law Bulletin

,

09.26.2017

Chicago Daily Law Bulletin

,

07.25.2017

Chicago Daily Law Bulletin

,

06.13.2017

Chicago Daily Law Bulletin

,

03.28.2017

Chicago Daily Law Bulletin

,

01.25.2017

Chicago Daily Law Bulletin

,

11.2016

Chicago Daily Law Bulletin

,

09.20.2016

Chicago Daily Law Bulletin

,

08.30.2016

Chicago Daily Law Bulletin

,

07.28.2016

Chicago Daily Law Bulletin

,

06.28.2016

Chicago Daily Law Bulletin

,

04.2016

Illinois Bar Journal

,

07.2008
Seminars & Speeches
Criminal and Civil Evidence Issues Seminar, Illinois State Bar Association, "Illinois Evidence: The CSI Effect", January 25, 2008 and February 8, 2008

"Motion Practice (615, 619, 1005)", Illinois Trial Lawyers Association, Update & Review Seminar, October 13, 2008

"Confidentiality for Special Medical Records and Electronic Medical Records", Lorman Medical Records Law Seminar, February 2, 2010.

"Nuts & Bolts Seminar – The Trial of a Negligence Case", MCLE, March 25, 2011

"Confidentiality for Special Medical Records and Electronic Medical Records", Lorman Medical Records Law Seminar, August 2, 2011.

Guest Lecturer, John Marshall Law School, Elder Law, November 7, 2011.

"How Attorneys Find Experts", Forensic Witness Association - Practice Development Conference, November 12, 2011.

"Topics on Litigation: The Anatomy of a Civil Case" – IIT Chicago-Kent College of Law, May 17, 2012

Speaker, CBA Sports Concussion Seminar, Chicago Bar Association, June 13, 2012

"Legal Issues after Brain Injury" – Annual Educational Conference of The Brain Injury Association of Illinois, October 26, 2012

"Medical Records Law", Lorman Education Services Seminar, June 20, 2013

Guest Lecturer, University of Notre Dame Law School, Torts I, November, 2013.

Guest Lecturer, Chicago-Kent College of Law, December, 2013.

Guest Lecturer, University of Chicago School of Law, Sports and Entertainment Law Society, January, 2014.

"Trial Techniques for Every Stage of a Case," Chicago Bar Association, February 13, 2014.

"Use of Video for Settlement, Arbitration and Trial," Illinois Trial Lawyers Association, Settlements, Liens and Technology Seminar, April 5, 2014.

"Finding out About Jurors: Voir dire and background checks," Pincus Professional Education, Jury Selection: Learn How to Improve Your Jury Selection Skills Seminar, April 25, 2014.

"NFL/NCAA Concussion Litigation," Hot Topics in Sports Law, Valparaiso University Law School Sports Law Symposium, November 21, 2014.

"Jury Instructions – Dealing with Difficult Defense Counsel," Illinois Trial Lawyers Association, Trials Seminar, March 28, 2015.

Guest Lecturer, University of Notre Dame Law School, National Football League and National Hockey League Players' Concussion Injury Litigation, November 11, 2015.

"Discovery Tailored to the Case – Taxi cab, Uber, trucking, boating, CTA, Metra, etc…" Illinois Trial Lawyers Association Education Fund, Nuts and Bolts of a Case Seminar, April 2, 2016.

"Litigating Brain Injury Cases," Illinois Trial Lawyers Association Update & Review Seminar, October 22, 2016.

"The Law of Sports Brian Injuries," The Brain Injury Association of Illinois 2016 Annual Educational Conference, October 28, 2016

"Non-Economic Damages," Illinois Trial Lawyers Association Education Fund Damages Seminar, March 31, 2017

"NHL Litigation and Settled NFL Litigation," The Chicago Bar Association Municipal & Law Committee Meeting, May 18, 2017

"Sports Concussions and Chronic Traumatic Encephalopathy," The Society of Trial Lawyers, May 1, 2018
Major Media Coverage
Chicago Sun-Times

,

08.11.2018

CBS2 - WBBM-TV

,

08.06.2018

Chicago Tribune

,

06.22.2018

New York Times

,

06.22.2018

Sports Illustrated

,

06.22.2018

Los Angeles Times

,

06.02.2018

Chicago Daily Law Bulletin

,

09.09.2013

Chicago Daily Law Bulletin

,

08.29.2013

Chicago Daily Law Bulletin

,

05.14.2013

Chicago Daily Law Bulletin

,

05.14.2013

Chicago Daily Law Bulletin

,

02.07.2013

Chicago Daily Law Bulletin

,

08.14.2012
Education
Education
IIT Chicago-Kent College of Law, Chicago, Illinois, J.D., 2004
University of Portland, Portland, Oregon, M.A., 1999
University of Notre Dame, Notre Dame, Indiana, B.A., 1997
Admissions
Bar &amp Court Admissions
Illinois
U.S. District Court, Northern District of Illinois
U.S. District Court of Nebraska
U.S. Court of Appeals, Eighth Circuit
U.S. Supreme Court
U.S. District Court, Southern District of Illinois
U.S. Court of Appeals, Seventh Circuit
Trial Bar for the U.S. District Court for the Northern District of Illinois