PDF
Corboy & Demetrio Client Launches The Mike Adamle Project to Help CTE Survivors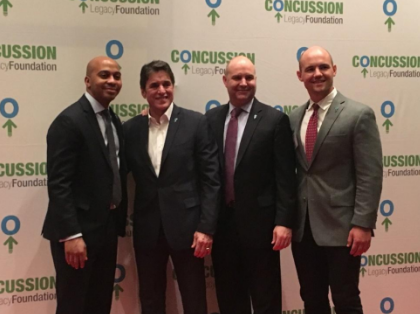 Pictured, from left to right: Tregg Duerson, Mike Adamle, Bill Gibbs and Chris Borland
Corboy & Demetrio client Mike Adamle hosted a reception for the launch of The Mike Adamle Project: Rise Above on March 1, 2018 at the National Italian American Sports Hall of Fame in Chicago. The Project provides support and resources to survivors who suffer symptoms of CTE.
Adamle, who played in the NFL for six years, suffers from dementia and other CTE symptoms. Several former NFL players turned out for the event, including Chris Borland, who retired from the San Francisco 49ers after playing only a few years in the NFL due to concerns about concussions and CTE.
Tregg Duerson, the son of Dave Duerson, who along with Adamle testified in Springfield earlier that same day in support of The Dave Duerson Act to Prevent CTE, attended.

Both Adamle and Dave Duerson's family are represented by Corboy & Demetrio Partners Thomas Demetrio and William Gibbs in concussion litigation against the National Football League.
Attorneys
Practice Areas