PDF
Corboy & Demetrio Partner William Gibbs Receives 2017 Trial Excellence Award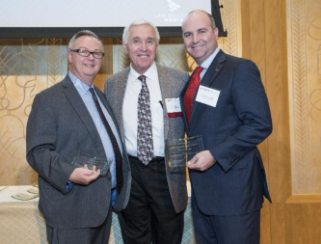 From left to right: Co-Counsel Mark D. Prince, JVR Editor John Kirkton and Attorney William T. Gibbs receiving the award on Oct. 26, 2017.
Corboy & Demetrio Partner William T. Gibbs received a 2017 Trial Excellence Award from the Law Bulletin Publishing's Jury Verdict Reporter for having the Highest Reported Verdict or Settlement in Jackson County. A story about the settlement appeared in the Jury Verdict Reporter's Annual Awards Issue, which was published on Jan. 16, 2018.
Bill received the award for a $4 million settlement for Ryan Williamson, a 33-year-old tree service worker who suffered a traumatic brain injury after he was struck in the head with a clevis when the tow strap it was attached to suddenly failed as Ryan was attempting to dislodge a tree stump from the ground.
Williamson was using a Bobcat and two 30' by 4" tow straps that were connected by a metal clevis on March 22, 2011 in Carbondale, IL. One of the straps failed, causing the 20-pound metal clevis to strike Williamson in the head. The defective tow strap had been purchased in Illinois after being imported from a Chinese manufacturer.
Gibbs' co-counsel on the case was Attorney Mark D. Prince of the Prince Law Firm in Marion, IL.
Attorneys