PDF
Porch/Deck Collapse Lawsuit Filed
05.2009
Attorney Francis Patrick Murphy, a personal injury lawyer at the Chicago law firm of Corboy & Demetrio, filed a premises liability lawsuit against Town & County Homes, (TCH), and Residential Carpentry, Inc., (RCI) a subcontractor, after a home porch/deck they built collapsed, seriously injuring the homeowner.
Deck Collapse Injury Lawsuit
The complaint alleges that on May 4, 2009, a young mother stepped from the kitchen of her home in Cary, Illinois, out onto a wood deck. As she did so, the deck tore away from the house, causing her to fall nearly 12 feet to the ground, sustaining a serious leg injury.
The woman's four year-old daughter was sitting at a table on the deck when the deck collapsed. The daughter also fell to the ground but was caught by her mother. The table slid off the deck but did not cause any injuries because the mother was able to hold it above her and her daughter with her hand.
The complaint further alleges that TCH and RCI failed to properly construct the deck and did not comply with the Cary village code which requires builders to use lag bots to attach decks to homes. The deck in this case was attached only with nails.
Deck Collapse Coverage
The deck collapse was featured on Fox News Chicago and written about in the Northwest Herald newspaper.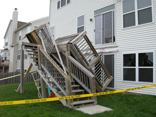 Cary, Illinois Deck Collapse 1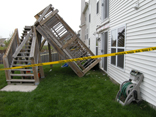 Cary, Illinois Deck Collapse 2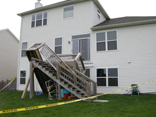 Cary, Illinois Deck Collapse - 3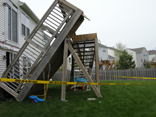 Cary, Illinois Deck Collapse - 4
Chicago's Porch and Deck Collapse Personal Injury Lawyer
Attorney Murphy is a highly sought after lawyer in porch and deck collapse cases due to his extensive experience and success. In addition to this deck collapse in Cary, he represents two young adults who fell two stories as a result of a defective railing, a family whose young son was injured when he fell through a balcony railing, the surviving family of a young adult killed when he fell through a porch railing, and nine victims and five families of victims in the 2003 Lincoln Park porch collapse. Murphy's achievements in porch and deck collapse cases include a record-setting $4 million settlement for a young woman who fell from a porch when a railing broke away. It is the highest settlement in Illinois for an injury resulting from a defective porch railing. In another case, Murphy was successful in securing $2.15 million for a couple who were injured when a deck railing gave way and they fell to the ground.
Attorneys