Print PDF
Helen
Lucaitis
Chief Marketing Officer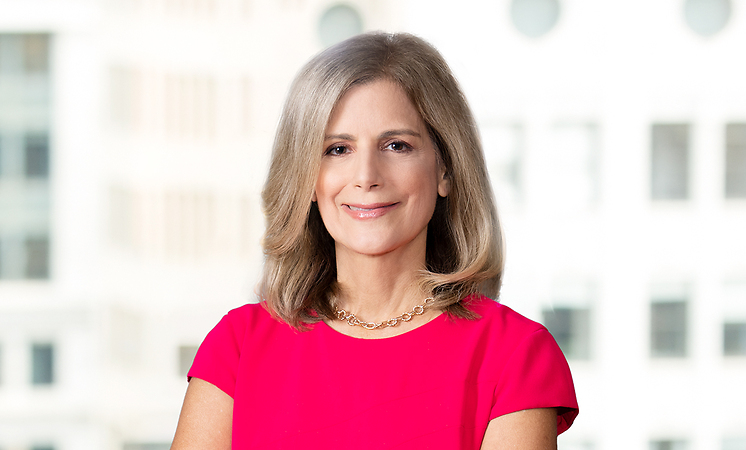 Profile
Helen Lucaitis is a former COURT TV Reporter as well as Legal Analyst and Courts Reporter for FOX5 News in New York City who brings 15 years of legal journalism experience, including eight years at the national level, to her position of Chief Marketing Officer at Corboy & Demetrio. She is also an attorney and a former Deputy Attorney General in the Indiana Attorney General's Office.
Helen obtained a J.D. from Indiana University McKinney School of Law, a master's degree from Northwestern University Medill School of Journalism, and a Bachelor of Business Administration from Saint Mary's College.
In her reporting, Helen covered the high-profile trials of Martha Stewart, Rosie O'Donnell, Jayson Williams, Tyco's Dennis Kozlowski, and others. She covered breaking legal news for COURT TV's nationally syndicated legal news program, Inside America's Courts, as well as the nightly evening news programs, Prime Time Justice, and Pros and Cons with Nancy Grace.
She joined Corboy & Demetrio two years after launching LawyerUp Media, the legal public relations consulting boutique firm she founded after leaving television journalism to start a family.
Since 2011, Helen has guided Corboy & Demetrio's strategic marketing and media relations efforts in the firm's highest profile cases including the 2017 removal of airline passenger Dr. David Dao, which resulted in media coverage by the New York Times, the Wall Street Journal, the Washington Post and almost every major newspaper around the world. Media coverage of the news conference held by Thomas Demetrio and the Dao family was broadcast live by CNN, MSNBC, CNBC, Bloomberg, FOX News Channel, FOX Business and by every major newspaper globally.
Helen is a member of the bars of Illinois, Indiana, and Arizona. She is a member of the Chicago Bar Association, the Illinois Trial Lawyers Association, and the Legal Marketing Association.
She currently serves on the Board of Directors of Lawyers Lend-A-Hand to Youth, which provides tutoring and mentoring for at-risk youth, and she has served as a board member of Elpides, a New York City based hotline for domestic abuse victims in the Greek community.
Helen has served as publicity chair on the Center for Disability & Elder Law's Annual "Light Up the Loop" benefit for several years.
A decade ago, seeing the need for networking and support for special needs families, Helen co-founded Avoca Diverse Learners, a support and networking group for parents of special needs children in her school district where she remains its co-leader.
Helen is married and lives with her husband and two daughters in Glenview, IL.
Honors
Silver Trumpet Award, Publicity Club of Chicago, 2018
Professional Affiliations
Member, Chicago Bar Association
Member, Hellenic Bar Association of Illinois
Member, Illinois Trial Lawyers Association
Member, Legal Marketing Association
Community Involvement
Board Member, Lawyers Lend-A-Hand to Youth, 2018-Present
Board Member, Elpides, 2002-2003
Parent Co-founder and Co-Leader, Avoca Diverse Learners, 2011-Present
Communications Director, Avoca Parent Teacher Council, 2012-2014
Member, Families for Russian and Ukrainian Adoption - 2007-Present
Autism Speaks Walk Team Host
News
Speaking Engagements and Presentations
Keynote Speaker, Journalism School for Lawyers, Indiana University Robert H. McKinney School of Law
Education
Education
Northwestern University, Medill School of Journalism, M.S., 1991
Indiana University McKinney School of Law, J.D, 1988
Saint Mary's College, B.B.A., 1985
Admissions
Bar &amp Court Admissions
Illinois State Bar, Admitted 2006
Arizona State Bar, Admitted 1989
Indiana State Bar, Admitted 1988