PDF
Our Clients, Our Heroes
We are inspired by so many of our clients who have turned their tragedies into something positive by creating organizations that support other victims; by creating public awareness of a safety problem or by effecting change in laws that improve safety. The passing of those clients leave an indelible legacy of courage and kindness.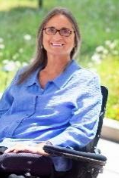 Access Living Founder Marca Bristo
One of our clients, Marca Bristo, who passed away in 2020, became a nationally renowned disability rights advocate after suffering a diving accident that left her a paraplegic at the age of 23.
President Bill Clinton appointed her Chair of the National Council on Disability, the first person with a disability to have that position, and she helped write the Americans With Disabilities Act, which prohibits discrimination against people with disabilities.
Marca also founded Access Living, a nationally recognized disability rights organization based in Chicago that is dedicated to finding housing that allows disabled persons to live independently. Also, she co-founded the National Council on Independent Living.
Read: Marca Bristo: Disability Rights Pioneer, Client and Friend.
ND and NFL Great Paul Hornung
During his lifetime, Notre Dame and NFL Legend Paul Hornung was a Heisman Trophy winner and a three-time All Pro, winning three National Championships and a Superbowl ring.
Years later, after Paul was diagnosed with CTE symptoms, he cared so much about the health of football players, from the pros to youth leagues, that he helped bring awareness to the danger of concussive injuries and CTE. He did so until his death in 2020.
Read: Paul Hornung: Our Client, Our Hero.

Chicago Weatherman Jim Tilmon
Former client Jim Tilmon was a Chicago weatherman and a professional pilot who became an aviation expert during his TV career. In the 1960s, he became the third African American pilot for American Airlines and was a co-founder of the National Association of Black Journalists. He inspired generations of Black journalists during his decades in the profession.