PDF
Corboy & Demetrio CFO Marcy Twardak Launches Inaugural Ovarian Cancer Benefit
09.14.2015
Marcy Twardak, Chief Financial Officer at Corboy & Demetrio, organized the inaugural 5K-Dog Walk benefitting Ovarian Cancer Symptom Awareness Organization (OCSA) on Sept. 13, 2015, with the law firm as a Best-in-Show sponsor. Marcy currently serves as OCSA Board President and launched the event, which took place in a new, second location on Chicago's Northwest Side for the first time.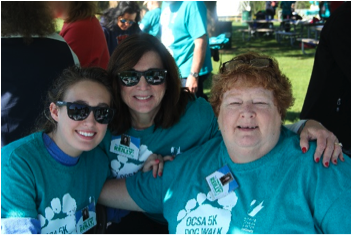 Marcy Twardak with volunteers Lizzy Garecki and Kathy Taylor
Under Marcy's direction, the fundraiser drew nearly 300 people, including a number of Corboy & Demetrio employees, family members and friends. In addition, a number of relatives of ovarian cancer victims attended to honor the lives of their loved ones.
Marcy, herself a 24-year survivor of breast cancer, became involved with OCSA when her close friend Susan Roman was diagnosed with ovarian cancer and launched the group while she was still alive. After her passing, Marcy was appointed President of the Board, a position she has maintained for two terms. Marcy's goal is to double attendance next year.