PDF
Corboy & Demetrio Sponsor of CARPLS 2016 Golden Gavel Celebration
05.20.2016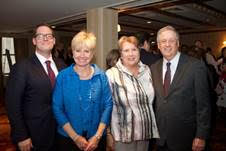 From left to right: Ed Hannibal, Cook Co. Circuit Judge Sue Coleman, Corboy & Demetrio Partner Susan Schwartz and Tom Genovese
Corboy & Demetrio was proud to sponsor the 2016 Golden Gavel Celebration, which is the largest annual fundraiser for CARPLS. Corboy & Demetrio Partner Susan J. Schwartz is a CARPLS Board Member and has been active with the group for many years.
CARPLS provides a Legal Aid Hotline and court-based Advice Desks to give low-income clients direct access to experienced attorneys who are trained to quickly assess and respond to a wide range of civil legal problems.
The 2016 Golden Gavel Award was presented to Brett Hart, Executive Vice President & General Counsel, of United Airlines, and this year's Keynote Speaker was Scott Turow, Award-Winning Author and Lawyer.