PDF
Charitable Contributions by Attorneys and Staff
Although the firm as a whole has contributed much to charitable causes and community events, the organizations to which the various attorneys and staff in the firm contribute are as varied as the people who make up the firm.
Corboy & Demetrio recently held its 1st Annual Wing-Off to raise money for charity. Organized by Peter Rooney, Facilities Manager, the Wing-Off consisted of three-person teams eating as many chicken wings as possible in 10 minutes. Each team paid an entrance fee with the winning team selecting their favorite charity as the recipient of all the funds collected. C&D employees cheered on their favorite team. Bill Gibbs, Matt Jenkins and Ray Steadmon (a former law clerk at C&D) won the competition by eating 58 wings! In their honor, a donation was made to Mercy Home for Boys and Girls. Janice Butera and Peter Rooney took second place. Jill Hines, Daniela Baratta and Athena Brick came in third. A special award was given to Daniela for eating her chicken wings the most slowly and delicately of any contestant.
More than 200 gifts for the children and families served by Youth Outreach Services (YOS), a social service agency, were donated by the attorneys and staff at Corboy & Demetrio. As she has for the last several years, Nancy Hayes, a legal assistant, coordinated the effort. She gathers the names, ages and requests from each recipient, distributes the requests to participating attorneys and staff and then assembles and delivers the gifts to YOS for distribution. This year approximately 80 children and families will receive gifts. "It's the best part of Christmas," said Liz, one of the participant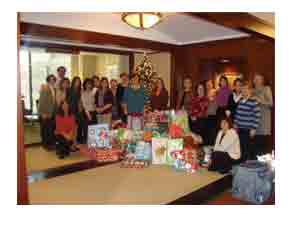 Attorney Matthew T. Jenkins is president of the Board of Directors of the Center for Disability & Elder Law (CDEL), a nonprofit organization that provides free legal services to low-income elderly and disabled individuals in Cook County. On November 10, 2009, Matt hosted a fundraiser at the Bull & Bear in Chicago, Illinois to raise funds for the Center. In addition to buying a ticket that provided free drinks and appetizers, supporters were also able to purchase raffle tickets for Blackhawks and Bulls games. It was a tremendous success. Approximately $5,500.00 was raised, and a good time was had by all who attended.
Susie Straus, the firm's mail room manager, who has been with our office for 32 years, is President of the Working Women's History Project, a network of Chicago history organizations writing and telling the story of working women. The Project presented "From Bonnets to Briefcases: A Journey of Chicago Women in Law," a free event at IIT Chicago/Kent College of Law, sponsored in part by Corboy & Demetrio. Susie is also a Board member of the Chicago Chapter of the National Organization for Women and a yearly contributor to her alma maters Von Steuben High School and Northeastern Illinois University.
The late Philip H. Corboy is the benefactor of the Philip H. Corboy Fellowship in Trial Advocacy at his alma mater, Loyola University Chicago School of Law. The fellowship program, established in 1995, provides annual scholarships for 10 student advocates (Corboy Fellows) who receive special training in trial advocacy and participate in various mock trial competitions.
The Corboy Scholars Program was also established at Loyola by Corboy for faculty scholarship and research at the law school. The Robert J. Corboy Memorial Courtroom at Loyola Law School is named in honor of Corboy's youngest son, who was killed in April of 1976 at age 12 when a car jumped the curb and struck him.
In 2008, Mr. Corboy received an honorary degree from the John Marshall Law School. The degree was given in recognition of his generosity to various causes including his underwriting of The Harold Corboy Scholarship, named for his father, a Chicago Police Officer, which helps offset the tuition costs of Chicago Police Officers enrolled at the Law School.
Corboy & Demetro has also established student scholarships at IIT Chicago Kent College of Law, DePaul University College of Law, Northwestern University School of Law and University of Chicago School of Law.
The Lawyers Assistance Program (LAP), a nonprofit organization, was created by the Illinois State Bar Association and the Chicago Bar Association to assist any Illinois judge, attorney or law student with addiction or mental illness problems. In order to make treatment available and accessible to those who can not afford treatment, Phil Corboy established a patient-aid fund for LAP to provide treatment at Hazelden Chicago.
Michael Demetrio, in honor of his brother, established the "Thomas A. Demetrio Award of Excellence," given annually to the city's most exemplary tutoring or mentoring program. The 2010 Award of Excellence was given to the Partnership to Educate & Advance Kids (PEAK) by the Lawyers Lend-A-Hand to Youth program. The $10,000 award, funded annually by the Corboy & Demetrio law firm, is given to the most exemplary tutor/mentor program in Chicago. Previous honorees have included Centro Communitario Juan Diego, a community outreach center for young people, Link Unlimited, a program that unites inner-city African-American high school students with personal sponsors who provide friendship, mentoring and financial support and Cabrini Connections, a one-on-one tutoring and mentoring program for students living in Chicago's Cabrini-Green housing project.
Michael is also a contributor to the Catholic Extension Society, Big Brothers/Big Sisters, and Misericordia. He is a member of the President's Circle at the University of Notre Dame and for several years, was a coach for the American Youth Soccer Organization (AYSO). Recently, Michael established the Loyola Scholarship Committee to address the need for scholarships at Loyola Academy, a Jesuit High School located in Wilmette, Illinois.
Peter Rooney, Facilities Manager at Corboy & Demetrio, has been actively involved in a benefit and other events to raise money for the sister of two former employees of the law firm. Becky Clifford, 38 years old, fell outside her home and was rendered a quadriplegic.
Susan J. Schwartz, for the past 15 years, has volunteered her time to work at Misericordia's Annual Family Fest. She is also a generous contributor to her three alma maters, Regina Dominican High School, Georgetown University and Loyola University of Chicago School of Law.
Kenneth T. Lumb is a retired Major in the Judge Advocate General's Corps of the U.S. Army Reserve and was assigned to the legal office of the Walter Reed Army Medical Center. During his reserve units' annual training or mobilization, he has served as the Deputy Center Judge Advocate. For several years, Ken has been an active fundraiser for the Glen Ellyn Children's Choir, a world-class organization providing music education and choral music experience to over 1,000 children from over 40 different Chicago suburban communities.
Edward G. Willer provides legal counsel to the Knights of Columbus' Youth Fund Drive of the Archdiocese of Chicago and to the Leonard Ring Legal Foundation.
Daniel S. Kirschner is Chair of the Advocacy Committee of the Chicago Regional Board of the American Cancer Society and proudly serves as a member of the Leadership Board of the Abraham Lincoln Marovitz Lend-A-Hand program, which provides grant support to mentoring organizations.
The firm's administrator, Marcy Twardak, is a member of the St. Joseph Seminary Rerum Novarum Committee, which meets throughout the year and annually recommends to the Cardinal three outstanding Catholic leaders in the areas of labor, business and government. In addition to coordinating the firm's volunteers who serve Sunday Brunch once a month at Misericordia, a residential facility for children and adults with mental and physical disabilities, Marcy is also the maitre d' each Sunday.
Each year, Nancy Hayes, a legal assistant, coordinates the collection of hundreds of Christmas gifts for children and families served by the Youth Outreach Services (YOS), a community-based social service agency which helps youth throughout the Chicagoland area. Nancy gathers the names, ages and requests from each recipient, distributes the requests to participating attorneys or staff, reminds everyone of deadlines and then assembles and delivers the gifts to YOS for distribution.
Trial lawyer William T. Gibbs is a co-chair of "Clements Dads," a group from St. Clement Parish in Chicago, that volunteers throughout the community and provides activities for parents and their children. Through the St. Clement Legal Aid Clinic, Our Lady of Mercy Legal Clinic and Mercy Home for Boys, he provides pro bono legal work. He also participates in St. Clement's Service Day and this past year, volunteered at a shelter for pregnant teens.
Medical malpractice trial attorney, David "Chip" Barry, Jr., coaches the Barrington Bandits Travel Softball team, which our firm sponsors, and the St. Anne's girls basketball team in Barrington. He is a volunteer at Misericordia's Sunday Brunch and participates in the St. Anne's Food Pantry drive and Christmas gift collection for needy families.
Catherine Dunnington is a planning committee member for the annual Fabian Buckman Memorial dinner which raises money for the Cancer Care Foundation, and for the "Beat Tom and Bill Golf Outing," which raises money to help patients and their families who are dealing with cancer. In addition, she is a member of the Golden Lamp Society of Rush University School of Nursing, which provides financial support to the School of Nursing.
One of our four receptionists, Janice Butera, coordinates "Blue Jean Fridays" at the firm. Every two months, Janice selects a charity, collects donations from the staff and then forwards the contributions to the charity. With each donation, the contributor is given a pass to wear blue jeans to work on designated Fridays. Over $15,000 has been collected. Organizations such as the American Cancer Society, Susan G. Komen Foundation, the American Heart Association and the Michael J. Fox Foundation for Parkinson's Research, have been supported by the staff's generosity.
The brother of one of our attorneys is in the military serving in Iraq. In order to bring a little bit of home to a far away place and to show our support of him, Attorney Patrick Murphy and legal assistant Terri LoBianco have coordinated the efforts of attorneys and staff in sending several "care packages" to Iraq. The packages have included shampoo, lotion, disposable cameras, gift cards, candy, baseballs and mitts, blankets, pens and paper. The last two "care packages" were made up exclusively of baked goods, almost all homemade, that included brownies, cookies, cakes and breads, which the brother and his platoon "devoured."
Many other organizations have benefitted from the support given by the firm and its attorneys and staff including the John Howard Association, the Chicago Coalition for the Homeless and the Sherwood Conservatory of Music.