PDF
Charitable Contributions by Attorneys and Staff
For more than 65 years, Corboy & Demetrio has contributed to countless charitable causes and community events, and the organizations to which the attorneys and staff contribute are as varied as the people who make up the firm.
Watch our 2021 video, 12 Days of Giving, bout our attorneys' non-profit work.
During Corboy & Demetrio Co-founder Thomas A. Demetrio's tenure as President of the Chicago Bar Association, he wanted to impact the lives of Chicago's underprivileged children who, he sensed, would greatly benefit from quality mentoring. The Thomas A. Demetrio Award of Excellence was thus created recognizing the efforts of exceptional tutor/mentoring programs in Chicago communities. In 1995, with Tom's inspiration, guidance, and support, the CBA and Chicago Bar Foundation created the Lawyers Lend-A-Hand to Youth program, which thrives to this very day.
Some of the most recent award winners include AMACHI, a tutoring and mentoring program for low-income students; Minds Matter Chicago, a college preparatory organization for low-income high schoolers; Urban Life Skills, a program which uses mentorship as gang violence intervention; and America Needs You, which provides mentorship and career preparation for low-income, first generation college students. In addition to the annual Demetrio Award, Lawyers Lend-A-Hand has granted over $1.6 million to mentoring programs for underprivileged youths in the Chicago area.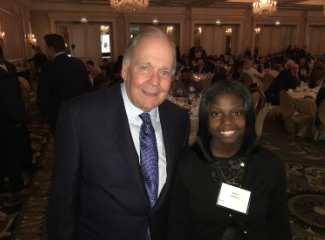 Corboy & Demetrio Partner Philip Harnett Corboy, Jr. serves as Trustee of the U.S. Olympic and Paralympic Foundation by the U.S. Olympic Committee. The USOPF is the primary source of philanthropic resources for the Olympic and Paralympic programs in the United States and benefits the United States Olympic Committee. As Trustee, Philip helps the USOPF generate critical financial resources that will enable the USOC to make investments in areas promoting excellence and innovation for Team USA.
In addition, Philip serves as Board Member and is a Past President of the Legal Assistance Foundation of Metropolitan Chicago, which provides civil legal resources to underprivileged communities where those services are not usually available.
Corboy & Demetrio CFO Marcy Twardak served as Co-Chair of Susan G. Komen Chicago's Ignite the Fight Gala in 2017, helping the group raise a record $400,000 at the annual fundraiser, which celebrated its 20th anniversary.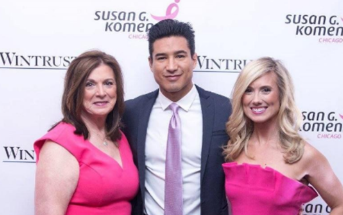 Marcy is a 26-year breast cancer survivor and co-chaired the event with her daughter, Katie Twardak, pictured above at the far right, who is an Associate Attorney at Johnson & Bell. Komen Chicago's goal is improving breast healthcare for all women in Chicagoland and bridging the gap in the large disparity between treatment and survivorship.
In addition to her work with Susan G. Komen, Marcy Twardak organized the inaugural 5K-Dog Walk benefitting Ovarian Cancer Symptom Awareness Organization (OCSA) in 2015, with the law firm as a Best-in-Show sponsor. Marcy served for years as OCSA Board President and currently serves as a board member.
Marcy serves on the Board of Advisors of the St. Joseph Seminary as well as on the seminary's Rerum Novarum Committee, which is its fundraising arm. In addition, she was recently appointed to Chairman of the Leader Council for Mercy Home for Boys and Girls. Mercy Home is a Catholic non-profit organization that provides a safe, nurturing environment for children in need.
The Philip H. Corboy Law Center, which was built after a generous donation by Corboy & Demetrio's late co-founder, houses the Loyola University of Chicago School of Law.
The Lawyers Assistance Program (LAP), a nonprofit organization, was created by the Illinois State Bar Association and the Chicago Bar Association to assist any Illinois judge, attorney or law student with addiction or mental illness problems. In order to make treatment available and accessible to those who cannot afford treatment, the late Mr. Corboy established a patient-aid fund for LAP to provide treatment at Hazelden Chicago.
Partner Francis Patrick Murphy has been involved with LAP for several years and has held various offices. Patrick currently serves as Vice-President of the LAP Board of Directors and will become President, for a third term, in November of 2018.
In 2017, Partner Michael K. Demetrio was appointed to serve on the Board of Directors of Big Shoulders. Mike is a member of the President's Circle at the University of Notre Dame, and he established the Loyola Scholarship Committee to address the need for scholarships at Loyola Academy, a Jesuit High School located in Wilmette, Illinois.
For more than 21 years, Facilities Manager Peter Rooney has raised money and volunteered for various organizations that fund research and help families impacted by ALS. John Flynn Rooney, Pete's brother died of ALS in 2016. John was a former Corboy & Demetrio employee. ALS fundraisers that Pete has taken part in include, Strike Out ALS, which raises money for the Les Turner Foundation.
Partner William T. Gibbs serves as a Chicago Police Memorial Foundation Advisory Board Member. In the past, he has volunteered at Mercy Home for Boys & Girls' Our Lady of Mercy Legal Clinic, Ronald McDonald House, and the Oz Park Baseball Association where he served as Board Member.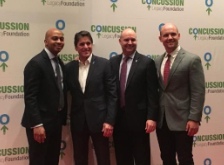 In 2018, Bill was selected to the Advisory Board of The Mike Adamle Project: Rise Above, an initiative created to provide tools, resources and support for patients living with symptoms of CTE. Mike Adamle is a former NFL player who suffers from dementia and other CTE symptoms as well as a Corboy & Demetrio client.
Partner Susan J. Schwartz is a longtime supporter and Board Member of CARPLS, an organization that works to increase access to the legal system through free legal services
Susan also serves on Almost Home Kids President's Council and has previously served on AHK's Board of Directors, Chairing the Resource Development Committee. Almost Home Kids is a groundbreaking endeavor launched in 1999 to provide transitional and respite care to children with complex medical needs and their families. In 2015, Susan was honored with the Volunteer Extraordinaire Award.
Partner Kenneth T. Lumb is a retired Major in the Judge Advocate General's Corps of the U.S. Army Reserve and was assigned to the legal office of the Walter Reed Army Medical Center. During his reserve units' annual training or mobilization, he has served as the Deputy Center Judge Advocate. For several years, Ken was an active fundraiser for the Glen Ellyn Children's Choir, a world-class organization providing music education and choral music experience to over 1,000 children from over 40 different Chicago suburban communities.
Partner Edward G. Willer provides legal counsel to the Knights of Columbus' Youth Fund Drive of the Archdiocese of Chicago.
Daniel S. Kirschner serves on the Executive Board of the Chicago Regional Board of the American Cancer Society and serves as a member of the Leadership Board of the Abraham Lincoln Marovitz Lend-A-Hand program, which provides grant support to mentoring organizations.
Partner David "Chip" Barry, Jr., is a former Chairman and current Board of Trustees member for the Forbeck Pediatric Cancer Research Foundation, which promotes advances in cancer research through collaboration.
Attorney Michelle M. Kohut, a Past President of the Women's Bar Association of Illinois. has served as President of Women Everywhere - Partners in Service Project, Inc., a community service project that helps women and children in need and introduces teenage girls to the legal profession. She has also served on the Board of Directors of Heartland International Health Center, which is dedicated to improving the health of persons in Chicago-area communities by providing affordable, quality and multilingual health services.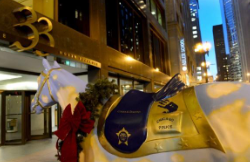 As part of a firm-wide charity effort, Corboy & Demetrio sponsored a horse statue in the public art program, Horses of Honor, created by the Chicago Police Memorial Foundation. The firm has been a supporter of Chicago Police Memorial Foundation fundraising campaigns for many years.
In 2017, Corboy & Demetrio participated in the K9's for Cops Public Art Campaign by sponsoring a dog statue on the Mag Mile. The majority of the proceeds from the art campaign, another benefit for the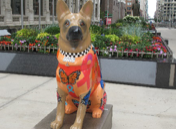 Chicago Police Memorial Foundation and PAWS Chicago, the area's largest no-kill shelter. The dog, dedicated to cancer survivors, has found a permanent home in the lobby of Corboy & Demetrio's office at 33 N. Dearborn Street.
Attorney Andrew P. Stevens served as a tutor in the Chicago Bar Association's Lawyers Lend-A-Hand, and he currently serves on the Board of Directors for the Spinal Cord Injury Association of Illinois.
In 2018, Attorney Michael D. Ditore was appointed to the Young Professionals Board of Good Sports, a non-profit organization that provides sports equipment, apparel and footwear to children in need so that they can have the lifelong benefits of sports and physical activity. The Young Professional Board works with the leadership team to develop new fundraising opportunities and secure sponsors.
Corboy & Demetrio Attorney Britney R. Pennycook serves on the Auxiliary Board of Lawyers Lend-A-Hand.
Corboy & Demetrio Communications Director Helen Lucaitis serve on the Board of Directors of Lawyers Lend-A-Hand, and Corboy & Demetrio Assistant Administrator Rita Planera served on the Board for several years.