PDF
Corboy & Demetrio Attorney Andrew P. Stevens Selected to 2017 Emerging Lawyers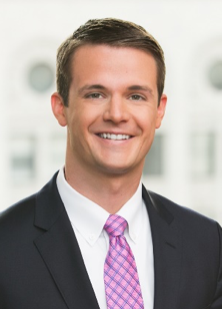 Andrew P. Stevens, an associate attorney at Corboy & Demetrio, was selected to 2017 Emerging Lawyers, which is owned by Law Bulletin Media. Andrew is a trial lawyer who practices in all areas of personal injury law, including environmental negligence.
Andrew is currently representing more than 70 Kankakee area residents or their families who were sickened by contaminated drinking water or who died as a result of drinking the water contaminated by a Shell Oil pipeline spill.
To be eligible for selection to Emerging Lawyers, candidates are selected by their peers to be among the top lawyers who are 40 or younger or have practiced less than 10 years. Less than 2% of all lawyers licensed in each state have received the distinction of Emerging Lawyer. According to Emerging Lawyers, selected attorneys must be "proven to be of exceptional character" and have "conveyed outstanding aptitude for the practice of law" in the early stages of their careers.
Andrew Stevens joined Corboy & Demetrio in 2016.
Attorneys