Print PDF
Susan
J.
Schwartz
Partner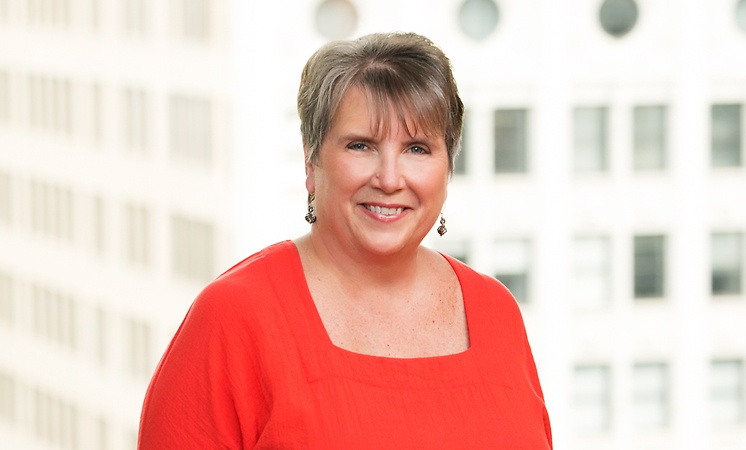 Profile
Attorney Susan Schwartz joined Corboy & Demetrio in 1980 following graduation from Loyola University Chicago School of Law and became a partner in 1994. Her practice centers on representing patients and their families in complex medical negligence personal injury and wrongful death actions. Susan's outstanding career as a personal injury lawyer was profiled in a feature article, "Shunning the Limelight, Her PI Career Speaks for Itself," in the Leading Lawyers Network Magazine.
As an experienced and successful medical malpractice lawyer in Chicago, Susan has achieved numerous multimillion dollar verdicts and settlements on behalf of her clients. She and her trial partner, medical malpractice attorney David R. Barry, Jr., secured a record-setting $22 million verdict for the family of a Chicago woman who died during child birth. It is the largest verdict in Illinois for the death of a woman.
In 2015, Susan's impressive work resulted in a $14 million settlement on behalf of an 8-year-old girl, who when seven weeks old, was admitted to an Illinois hospital for bronchitis and was intubated improperly, resulting in cerebral palsy.
And in 2016, Susan and David R. Barry, Jr. obtained a jury verdict of $10 million for a Chicago physician, who sustained an unrecognized 4th degree tear from her vagina to her rectum during forceps delivery of her baby. The wound became infected, compromising subsequent repairs, resulting in a persistent recto-vaginal fistula.
After a 17-year legal odyssey with two Illinois Supreme Court opinions, Susan and Thomas Demetrio obtained a $14.6 million settlement against the Chicago Board of Education and the Chicago Youth Centers on behalf of a 13-year-old Chicago Public School student. He broke his neck and was rendered a quadriplegic when he struck his head while preforming a flip on a mini trampoline during a lunch period extracurricular class.
Susan's lengthy record of success also includes a $9 million settlement on behalf of a 74-year-old nurse's aide who suffered bilateral below-the-knee amputations as a result of the failure to timely diagnose and treat an acute arterial blockage.
In 2014, Susan, along with Chip Barry, obtained a $5.25 million settlement on behalf of a 53-year-old man who suffered a lumbar puncture while he was on aspirin and Lovenox. He developed a spinal hematoma as a result.
When a 13-day-old infant was electrocuted when the EKG leads on an apnea monitor were plugged into a wall outlet by a nurse, Schwartz was successful in securing $4 million for the parents of the infant.
Susan obtained a $3.5 million settlement in 2015 on behalf of a woman who suffered an undiagnosed spinal epidural abscess during pregnancy. The young mother, who had a history of back problems, is partially paralyzed.
Susan obtained another $3.5 million settlement on behalf of the estate of a 64-year-old artist who died as a result of being force fed through a feeding tube that was incorrectly inserted in her lung instead of her stomach.
In 2013, Susan obtained a settlement of $3.25 million on behalf of a child injured during delivery. The baby sustained cranial trauma, resulting in subtle cognitive impairments and mild motor delays after a failed vacuum delivery.
Also In 2013, Susan obtained a $2 million settlement against the University of Chicago on behalf of a patient who suffered two drop feet and a neurological pain syndrome after back surgery. An implant placed during surgery was pressing on a lumbar nerve root.
A physician who was disfigured when her employer hospital supplied her with an excessive dose of steroids for an acute asthma attack was awarded $1.5 million in a settlement secured by Susan. In a wrongful death action against a moonlighting emergency department physician, she won an award of $1.7 million for the widow of a 73-year-old man who died of complications from an undiagnosed leaking aneurysm. Susan secured a $3.2 million dollar settlement for the family of a man who died from a heart attack when Chicago Fire Department paramedics could not resuscitate him because the batteries in their defibrillator had not been maintained or replaced every two years in accordance with industry standards.
Susan obtained a $1.8M settlement in 2014 on behalf of the Estate of woman who died from sepsis after injuries incurred during a routine colonoscopy procedure.
She is an active member of several bar associations and has lectured locally and nationally at bar seminars and continuing legal education programs on topics ranging from trial practice techniques to alternative methods of dispute resolution. She has spoken about health care issues to doctors, nurses and lawyers at workshops and seminars conducted by their professional organizations. She also has spoken at conferences conducted by the Institute for Health Law at Loyola University Chicago and has served on the faculty for the National Institute for Trial Advocacy (NITA) for a video series on the cross-examination of experts.
Susan is a contributor to the guidebook, "Medical Malpractice," published by the Illinois Institute of Continuing Legal Education in 2010 and co-authored the chapters on "Duty" and "Proximate Cause." She has also co-authored a chapter in "Operative Obstetrics."
Appointed by the Illinois Supreme Court to the Court's Committee on Character and Fitness, Susan served as a Commissioner from 1999 until 2007. She is a Past President of the Board of Governors for Loyola University Chicago, School of Law, as well as a former officer and member. On the Board of Directors for the Woman's Bar Foundation, she serves as Secretary and is a member of the Board of Directors of the Coordinated Advice & Referral Program for Legal Services(CARPLS).
Named one of the top 5% of all Illinois attorneys by the Leading Lawyers Network, Susan was also named one of the top 100 Leading Women Lawyers in Illinois for 2008, 2009 and 2010. Susan was chosen as one of the Top 50 Leading Women Consumer Lawyers in Illinois by the Leading Lawyers Network for 2012. She has been designated an "Illinois Super Lawyer," one of the top 50 women Illinois Super Lawyers in 2011 and has achieved the highest possible rating in the Martindale-Hubbell Law Directory.
Honors
AV rated - Highest level awarded - Martindale-Hubbell Law Directory
Illinois Super Lawyer - Top 5% of all Illinois attorneys
Illinois Super Lawyer - Top 50 Women Illinois Super Lawyers, 2011
Illinois Supreme Court Committee on Character and Fitness, Commissioner, 1999 - 2007
Illinois Trial Lawyers Association, Board of Managers
Lawdragon 500 Leading Lawyers in America, 2019
Lawdragon 500 Leading Plaintiff Consumer Lawyers, 2019
Leading Lawyers Network Member - Top 5% of all Illinois attorneys
Leading Lawyers Network - Top 100 Leading Women Lawyers in Illinois, 2008, 2009
Loyola University Chicago, School of Law, Board of Governors, President
American Board of Trial Advocates, Advocate
Professional Affiliations
Loyola University Chicago School of Law, Board of Governors, President, 2009-2010; Vice-President, 2008-2009; Treasurer, 2007-2008; Secretary, 2006-2007; Member 2002-present
Women's Bar Foundation, Board of Directors, 2009-present; Vice-President, External Affairs, 2011-present
Coordinated Advice & Referral Program for Legal Services (CARPLS), Board of Directors, 2010-present
Chicago Bar Association (CBA), Judicial Evaluation Committee, 1986-1992
Illinois State Bar Association (ISBA)
Illinois Trial Lawyers Association (ITLA), Board of Managers, 2008-present; Amicus Curiae Committee, 1990-1998
American Bar Association (ABA)
American Association for Justice (AAJ), formerly known as Association of Trial Lawyers of America (ATLA), Women's Caucus Lobby Days, 2005, 2007, 2009, 2011, 2013, 2015
Community Involvement
Almost Home Kids, President's Council, 2017-present; Board of Directors, 2010-2016; Chairman, Resource Development Committee, 2010-2016
Coordinated Advice & Referral Program for Legal Services(CARPLS), Board of Directors, 2010-Present
Misericordia Family Fest, 1997-presentevelopment Committee, 2010-present
Practice Areas
Practice Areas
News
Attorney-Authored Articles
"Special Considerations in a Medical Negligence Case," Chapter 13S, Illinos Institute for Continuing Legal Education, Illinois Civil Discovery Practice

"Proximate Cause," Chapter 7, Medical Malpractice, Illinois Institute for Continuing Legal Education

Illinois Causes of Action

,

2011

"Section 6-622 Affidavit and Report Required in Medical, Hospital or Other Healing Art Malpractice Cases"

Illinois Trial Lawyers Associations's Medical Malpractice Trial Notebook

,

2010

Medical Malpractice

,

2010

Medical Malpractice

,

2010

Medical Malpractice

,

2006

Litigating Tort Cases, 2nd Edition

,

2004

Litigating Tort Cases

,

2003

Malpractice Trial Notebook

,

1999

Illinois Courts: Vital Developers of Tort Law as Constitutional Vanguards Statutory Interpreters, and Common Law Adjudicators

Loyola University Chicago Law Journal

,

12.1998

Malpractice Trial Notebook

,

1997

Cervical Insufficiency

Operative Obstetrics

,

1995

Going the Distance, How to Perfect the Trial Record and Win on Appeal

American Bar Association Journal, Volume 76

,

04.1990

Final Argument

Anatomy of a Personal Injury Lawsuit, 3rd Edition

,

1990
Seminars & Speeches
Lecturer, Advanced Torts, Trends in Medical Malpractice, Loyola University School of Law Symposium, February 7, 2012.

Speaker, Office of the Cook County Public Guardian, "Personal Injury Practice: A Primer," Chicago, Illinois, October 5, 2011.

Lecturer, Advanced Torts, Trends in Medical Malpractice, LoyolaUniversity School of Law Symposium, April 5, 2011.

Lecturer, Advanced Torts, Trends in Medical Malpractice, Loyola University School of Law Symposium, February 19, 2010.

Panelist, Summit, National Association of Women Lawyers, April 21, 2011
Panelist, "Impact of Evidence Based Medicine in Litigation: A Sword or a Shield?," Evidence Based Care Webinar Series - Part II, presented by Clarity Group, Inc., October 14, 2010
"Advanced Torts, Trends in Medical Malpractice," Loyola University School of Law Symposium, 2008, 2009, 2010
"Using Plaintiff's Motions in Limine: Controlling the Evidence," Medical Malpractice Seminar, Illinois Trial Lawyers Association, 2007
"The Plaintiff's Case: Winning Trial Techniques & Strategies," Medical Negligence Seminar, Illinois Trial Lawyers Association, 2007
"Proximate Cause," Medical Malpractice in Illinois Seminar, Illinois Institute of Continuing Legal Education, 2006
"Reducing Your Malpractice Risk: A Plaintiff's Lawyer's Insight," Evanston Northwestern HealthCare Physicians Group, 2004
"The Medical Malpractice Crisis: Federal Efforts, States' Rules and Private Responses – Patient Perspective with a Focus on Compensatory Harm," Loyola University School of Law Annual Health Law and Policy Colloquium, 2003
"Pleadings and Written Discovery," Tort Litigation: From Intake to Verdict Seminar, Illinois Trial Lawyers Association, 2002
"Cancer Cases," Medical Malpractice Seminar, Illinois Trial Lawyers Association, 2001
"Disclosure of Medical Errors: Demonstrated Strategies to Enhance Communication," American Society for Healthcare Risk Management of the American Hospital Association, 2001
"Volunteer Liability," National-Louis University, 2000
"Discovery: Interrogatories and Request to Produce," Chicago-Kent College of Law, 1999
"Nursing Malpractice," Loyola University Health Law Institute, 1999
"Evidence & Privileges," Illinois Trial Lawyers Association, 1999
"Trial of a Medical Malpractice Case," Loyola University Chicago, 1999
"Federal Bar Training Course," Chicago Bar Association's Young Lawyers Section, 1998
Moderator, Damages Seminar, Illinois Trial Lawyers Association, 1998
"Closing Arguments," Federal Trial Bar Training Course, Chicago Bar Association, 1997
"Sixty Days to Trial & Trial of a Medical Malpractice Case - For the Plaintiff ," Chicago Bar Association, 1997
"How to Make Money and Sleep at Night Handling Plaintiff's Litigation - Avoiding Legal Malpractice," Continuing Legal Education Seminar, Illinois State Bar Association, 1997
"Effective Use of Expert Witnesses," Young Lawyers Section Trial Techniques Seminar , Chicago Bar Association, 1994
"A Different Standard of Care for Physicians in Training?" Loyola University Chicago Institute for Health Law, 1993
"How to Get a Verdict," Civil Litigation Seminar, Northwest Suburban Bar Association, 1993
"Evaluating Our System of Justice: Is our Judicial and Litigation System Delivering Justice to all the Public?" American Bar Association Annual Meeting, 1992
"Fundamentals of Trial Preparation," Education Fund Young Lawyers Seminar, Illinois Trial Lawyers Association, 1992
"Medical Malpractice Trends -- North and South of the Border ," Loyola University Chicago School of Law Institute for Health Law Conference, 1990
"Legal Issues Workshop - Medical Records as Evidence - A Trial Attorney's Perspective," Joint Illinois Medical Records Association, Illinois State Bar Association, 1989
"The Insurance Contract," Insurance Law for Plaintiffs Seminars, Illinois Trial Lawyers Association, 1989
"What is Dental Malpractice?" Illinois Society of Oral and Maxillofacial Surgery Meeting, 1989
"Proof of Negligence in Medical Negligence Cases - Plaintiff's Perspective," Chicago Bar Association, 1989
"Legal Systems Influencing the Quality of Medical Care," Loyola University Chicago School of Law Institute for Health Law Seminar, 1989
Illinois Task Force on Gender Bias in the Courts Round Table Discussion - Gender Bias in the Courts, 1988
Instructor, American Bar Association/National Institute Trial Advocacy Video Series, Cross-Examination of Experts, Minnesota, 1987
"Named Insured and Members of Family -- What is 'Resident of Household?' " Illinois Trial Lawyers Association, 1986
"Arbitration & Mediation in Cook County," Past President's Seminar, Illinois Trial Lawyers Association, 1985
Guest Lecturer, Loyola University Chicago Street Law Program, 1984, 1985
Judge, Interschool Appellate Advocacy Competition, Loyola University School of Law, 1984, 1985, 1986
Major Media Coverage
Chicago Daily Law Bulletin

,

04.12.2013

Leading Lawyers Magazine

,

09.08.2009
Education
Education
Loyola University Chicago School of Law, J.D., 1980
Georgetown University School of Foreign Service, B.S.F.S., 1977
Admissions
Bar &amp Court Admissions
Illinois, 1980
U.S. District Court, Northern District of Illinois, 1980