Print PDF
Robert
J.
Bingle
Partner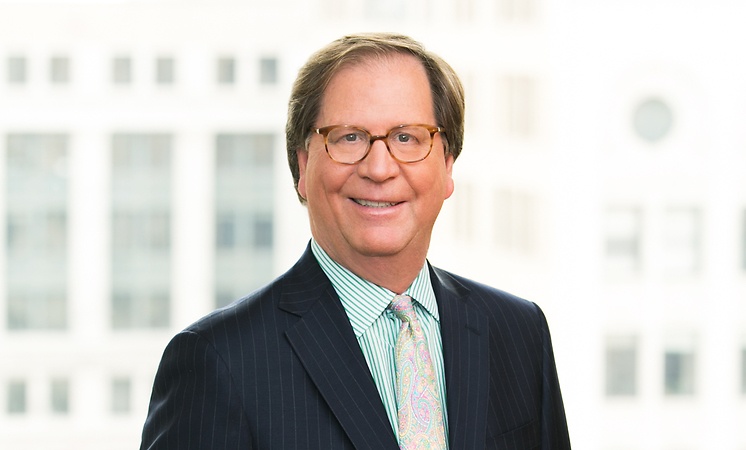 Profile
Robert J. Bingle joined the Chicago law firm of Corboy & Demetrio in 1983, became a partner in 1991 and served as Managing Partner from 1995-2018. Over the last 35 years, he has been involved in every type of personal injury and wrongful death case and has obtained numerous multi-million dollar verdicts and settlements for his clients.
As a result of Bob's extensive legal experience, he has acquired leadership positions on mass tort litigation arising from railroad collisions, gas explosions and fires and other disasters. In 2011, Bob secured a $22.5 million settlement for the family of a Rockford woman killed in a train derailment. He was lead plaintiffs' counsel for the litigation stemming from the collision of a train and school bus in Fox River Grove, Illinois, which settled in excess of $25 million and was one of the lead attorneys in a $10 million settlement stemming from a collision at a Union Pacific rail yard that resulted in the death of the three men. He was also the lead trial attorney and directed the mass litigation stemming from the Quantum Chemical explosion which settled for more than $20 million.
Bob has secured a number of record-setting verdicts. In a Federal District Court lawsuit Bob tried a $6.6 million verdict was awarded to a family injured in an automobile collision. It was the largest verdict ever in that Court. In a railroad negligence case, the jury returned a $6.8 million verdict, the highest amount ever awarded in Illinois to an individual for the loss of his leg.
A few of Bob's other notable cases include an $18 million settlement for the family of a Mexican national who was killed by a piece of falling glass from Chicago's CNA Tower, a $4.5 million settlement for a young man burned at a chemical refinery and a $3.9 million verdict for the family of a 10-year-old girl who drowned at a municipal water station.
In addition to Bob's trial work, he is very active in bar association work. Bob is a past President of the Illinois Trial Lawyers Association (ITLA) and is now on its Board of Managers. He served as Chairman of ITLA's Membership and Legal Education Committees and Co-Chairman of its Legislative Committee. By appointment of the Illinois Supreme Court, Bob served from 2004-2014 on the Illinois Supreme Court Committee on Jury Instructions in Civil Cases. He is a past board member of the Illinois Supreme Court Character and Fitness Committee.
Bob has also been a faculty member at the National Institute for Trial Advocacy and a member of the Loyola University Chicago School of Law Alumni Board.
He lectures extensively throughout the United States at bar association and interest group seminars and has published chapters and articles in legal books, periodicals and newspapers. He is frequently called upon by the media to comment on legal issues involving civil litigation and has appeared nationally and locally on television and radio news broadcasts and news talk programs.
Bob's community involvement includes previously serving on the Board of Trustees and as Chairman of the Jobs Committee at Christ the King Jesuit Preparatory School in Chicago. Bob was a previously a member of the Fenwick High School Board of Trustees; CARPLS Board of Trustees; Big Brothers/Big Sisters of Metropolitan Chicago Board of Trustees and the St. Isaac Joques School Board.
Bob was named to named to the 2019 Edition of Best Lawyers in America by U.S. News and World Report for the fifth consecutive year in the areas of Personal Injury Litigation and Commercial Litigation. Since 2016, Bob has been named to the prestigious Lawdragon 500 Leading Lawyers in America.
A member of Leading Lawyers, the top 5% of all Illinois attorneys, Bob is also an Illinois Super Lawyer and has attained an AV rating - the highest level awarded for professional excellence - from the Martindale-Hubbell Law Directory.
Since 2015, Bob has been selected to the Irish Legal 100, the country's top lawyers of Irish descent.
Bob brings a unique background to the firm. Before joining Corboy & Demetrio, he was a sales and marketing director for Hilton Hotels Corporation.
Honors
Illinois Trial Lawyers Association, President, 2002
Best Lawyers in America, 2015 to present
AV rated - Highest level awarded for professional excellence - Martindale-Hubbell Law Directory
Illinois Super Lawyer - Top 5% of all Illinois attorneys
Illinois Supreme Court Committee on Jury Instructions in Civil Cases, Member
Illinois Supreme Court Committee on Character and Fitness, First District (1993-2001)
Illinois Trial Lawyers Association, Board of Managers
Irish Legal 100, 2015-present
Lawdragon 500 Leading Lawyers in America, 2016 to present
Lawdragon 500 Leading Plaintiff Consumer Attorneys, 2019
Leading Lawyers Network Member - Top 5% of all Illinois attorneys
Professional Affiliations
Member, Illinois Supreme Court Committee on Jury Instructions in Civil Cases, 2004-2014
Executive Committee - Illinois Trial Lawyers Association (ITLA), 2003-2004, 2004-2005, 2011-2012
President, Illinois Trial Lawyers Association ITLA, 2002-2003
Chicago Bar Association (CBA)
American Association for Justice (AAJ)
National Trial Lawyers Association
The Association of Plaintiff Interstate Trucking Lawyers of America
American Bar Association (ABA) Section on Litigation
ITLA Long Range Planning Committee - Chairman 1999-2000, 2001
ITLA Legislative Committee, 1985-2002
ITLA Public Relations Committee, 1985-1987
ITLA Board of Managers, June, 1987-present
ITLA Chairman, Membership Committee, 1988-1990, 1992-1994
ITLA Co-Chairman, Legislative Committee, 1994-1996
ITLA Executive Committee, 1995-2003
ITLA Chairman, Legal Education Programs, 1995-1997
ITLA Journal, Editorial Board, 1999
Illinois Supreme Court Committee on Character and Fitness, First District, 1993-2001
Chairman, Chicago Bar Association (CBA) House Committee, 1992-1993, 1993-1994
Member, DuPage County Bar Association, 1990-2011
Member, Railroad Law Section of AAJ, 1991-2003
Member, Illinois State Bar Association Standing Committee on Judicial Appointments, ISBA, 1994-1995
Community Involvement
Former Christ the King Jesuit College Preparatory School Board of Trustees Member and Chairman of the Jobs Committee
Former Member of Fenwick High School Board of Trustees
Former CARPLS Board of Trustees Member
Former Big Brothers/Big Sisters of Metropolitan Chicago Board of Trustees Member
Former St. Isaac Joques School Board Member
News
Attorney-Authored Articles
Illinois Causes of Action - Tort Actions, 2008, 2010

Illinois Institute for Continuing Legal Education

,

01.09.2012

The Liability of Non-Operator Defendant

Illinois Trial Lawyers Association

,

04.2002

Motor Vehicle Actions - Railroad, 2002, 2008

IICLE Publication: Illinois Causes of Action - Elements, Forms and Winning Tips: Tort Actions, Handbook, 2002

,

2002

How to Try a Personal Injury Case - Strategies and Techniques from the Experts

Practicing Law Institute

,

10.1998

The National Law Journal

,

06.1998
Seminars & Speeches
"Trial Practice from Voir Dire through Post Trial - Setting the Stage for Success," Illinois State Bar Association, CLE for Illinois Lawyers, 2010
"Zealous Advocacy - What Does It Mean?," Ethics & Professionalism in the Personal Injury Practice Seminar, Illinois Trial Lawyers Association, 2010
"Opening Statement," Trial Preparation Seminar, Suisse Bancorp, 2010

"Caps on Medical Malpractice Awards Are Bad Policy," Northwestern University Political Union, 2010

"Case Evaluation Conference, Managing the High Verdict Potential Case," Law Bulletin Seminars, 2009
"Pro Bono Work," Current Issues in Professional Responsibility Seminar, Illinois Trial Lawyers Association, 2008
"Litigation Skills for Legal Staff in Illinois," Lorman Education Services, 2008
"Opening Statement - Storytelling with Emotion and the Use of Rhetorical Devices," Indiana Trial Lawyers Association, 2007
"Selecting and Influencing Your Jury," Illinois Trial Lawyers Association, 2006
"Mastering Your Opening Statement in a Jury Trial," Chicago Bar Association, 2006
"Opening Statements," President's Seminar, Illinois Trial Lawyers Association, 2006
"Tort Reform Debate," Extension 720 Radio Show with Milt Rosenberg, WGN, 2005
"How Plaintiffs' Lawyers Perceive Insurance Companies," Chartered Property Casualty Underwriters Society, 2005
"Settlements - Problems and Solutions," President's Seminar, Illinois Trial Lawyers Association, 2004
"Successfully Navigating Civil Litigation: Update and Overview of Civil Practice and Procedure Practical and Legal Considerations," Illinois State Bar Association, 2004
"Point-Counterpoint," Evidence Seminar, Illinois Trial Lawyers Association, 2003
"Direct Examination," Trial Practice - Law Update and Practice Tips, Illinois State Bar Association, 2002
"What's New in Government Tort Immunity," Central Illinois Civil Seminar Update and Review Seminar, Illinois Trial Lawyers Association, 2002
"Maximizing Damages in a Closed Head Injury Case," Point/Counterpoint Seminar, Illinois Trial Lawyers Association, 2001
"Empty Chair Defense," Evidence Seminar, Illinois Trial Lawyers Association, 2000
Federalist Society Debate, 1999
Moderator and Program Planner, Evidence Seminar, Illinois Trial Lawyers Association, 1999
"Trial Practice," Civil Practice Update Seminar, Illinois State Bar Association, 1999
"Jury Selection," Bench/Bar Relations Committee Seminar, Chicago Bar Association, 1998
"How to Try a Personal Injury Case," Practicing Law Institute, 1998
ITLA Civil Practice Update and Review Seminar, September, 1998
Moderator and Program Planner, Enhancing Your Law Practice Through Public Speaking Seminar, Chicago Bar Association, 1997
"Mentoring," Tort Law Section Council Seminar, Illinois State Bar Association, 1997
"Opening Statement," Illinois Trial Lawyers Association, 1997
"Expert Witness Foundations for Expert Opinions," Office of the Illinois Attorney General, 1997
"The Plaintiff's Perspective on Mass Tort Litigation," Illinois Association of Defense Counsel, 1997
"Trial Techniques Demonstration," Loyola University Chicago School of Law Dublin Health Law Conference, 1997
"Negotiation and Mediation - A Systematic Approach," National Institute of Trial Advocacy, 1997
"Trial Advocacy from Both Sides With Views From the Bench - Constructing and Presenting Plaintiff's Case-In-Chief," Point-Counterpoint Seminar, Illinois Trial Lawyers Association, 1997
"Maximizing Results Through Settlement and Trial - Prosecuting the Negligence Case - Handling Coverage and Bad-Faith Issues to Maximize Settlement," Illinois Trial Lawyers Association, 1997
Illinois Civil and Criminal Justice Inside Insights Panel Discussion, 1996
"The Art of Persuasion," Trial Practice Seminar, Illinois Trial Lawyers Association, 1996
"The Settlement Dilemma," Practice Update and Review Seminar, Illinois Trial Lawyers Association,1996
DePaul University College of Law National Symposium on the Legal and Business Issues of Tort Reform, 1996
"Ten Reasons Why Lawyers are Hated - and Loved," Texas Trial Lawyers Association, 1994
Annual Convention Melvin Belli Seminar, Association of Trial Lawyers of America, 1994
"Evidence," Illinois Trial Lawyers Association, 1993
"Final Argument," Ultimate Trial Seminar II , New Mexico Trial Lawyers Association, 1992
"Proof in Argument," Products Liability Seminar, Illinois Trial Lawyers Association, 1992
"Products Liability," Law Education Series Civil Practice Seminar, Illinois State Bar Association, 1992
"Proof & Argument in the Courtroom, Loss of Consortium and Society," Products Liability/Wrongful Death Seminar, Illinois Trial Lawyers Association, 1992
"Proving Injury: Pain & Suffering, Loss of Consortium and Earnings," Chicago Bar Association, 1991
"Slip and Fall - A Plaintiff's Perspective," Chicago Bar Association, 1991
"Voir Dire," American Bar Association, 1991
"Negligence," Civil Practice Update Review and Seminar, Illinois Trial Lawyers Association, 1991
Committee on Professional Responsibility , Young Lawyers Section, Chicago Bar Association, 1991
"Comparative Negligence," Young Lawyers Section Seminar, Chicago Bar Association, 1991
"Negotiation," Aetna Insurance Company Claims Representatives Regional Conference, 1990
"Defending Auto Accident Cases - Proving One-Car Accident Cases," Illinois Institute for Continuing Legal Education, 1990
"Overcoming Governmental Tort Immunity - The Plaintiff's Perspective," Young Lawyers Section Seminar, Chicago Bar Association, 1990
"Personal Injury Litigation Practice in Illinois," National Business Institute Seminar, 1989
"Careful Habits, Reputation Evidence," Evidence Seminar, Illinois Trial Lawyers Association, 1988
Judge, Loyola Moot Court Competition, 1987
Judge, Loyola Moot Court Competition, 1986
Loyola Appellate Advocacy, 1986
"Negotiations: A Systematic Approach," National Institute of Trial Advocacy, Faculty Member, June 1996, June 1994, June 1993, June 1991, June 1990, June 1988, June 1987, December 1986, May 1986, December 1985
Major Media Coverage
Chicago Tribune

,

09.13.2019

Chicago Sun-Times

,

08.11.2018

CBS2 - WBBM-TV

,

08.06.2018

WFLD - FOXNews Chicago

,

06.26.2017

Lawdragon Magazine

,

01.2017

Leading Lawyers Magazine

,

09.08.2009
Education
Education
Loyola University Chicago School of Law, J.D., 1981
University of Chicago, M.A., 1975
University of Notre Dame, B.A., 1973
Admissions
Bar &amp Court Admissions
Illinois, 1982
U.S. District Court, Northern District of Illinois, 1983
U.S. Court of Appeals, Eighth Circuit, 2004
U.S. District Court, District of Colorado, 2005