Print PDF
David
R. "Chip"
Barry, Jr.
Of Counsel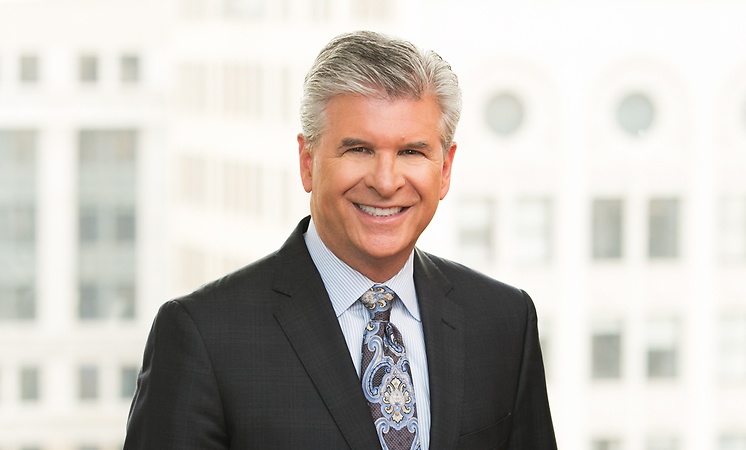 Profile
David R. "Chip" Barry, a Chicago personal injury lawyer and medical malpractice attorney, joined the firm of Corboy & Demetrio as a partner in April 2002, a role he served for 19 years, and currently serves Of Counsel. Chip has amassed more than $300 million in settlements and verdicts in that time. He practices in the area of medical negligence, where he has focused his efforts since graduating from Northwestern University School of Law in Chicago, Illinois, in 1981. Prior to 2002, he represented defendants in personal injury cases. Whether representing plaintiffs or defendants, Chip has earned the respect of the judiciary and the trial bar for his ability, professionalism, good nature, and success.
Chip has had numerous record-setting verdicts and settlements. In one of his recent record-setting cases, a jury awarded $22 million - the largest verdict ever for a Chicago personal injury lawyer in a medical malpractice case in Illinois for the death of a woman - to the family of a 34 year-old mother who died after childbirth. The doctor and nurse failed to properly treat her acute high blood pressure. In another case of medical malpractice, Chip obtained a settlement of $19.5 million for a 41-year-old man who was not immediately treated for a stroke at an Illinois hospital. When a hospital staff failed to deliver an infant in a timely manner despite indications he was not tolerating labor, Chip obtained an $11.5 million settlement on behalf of the parents of the boy born brain damaged and with cerebral palsy. And when a 6-year-old boy was blinded in one eye after being treated at a Chicago hospital for a recurring bloody nose, Chip secured a $3.8 million settlement on behalf of the boy.
Chip's other successes include:
$9.5 million settlement on behalf of a 40-year-old woman whose artery was mistakenly tied off during surgery for mitral valve replacement at an Illinois Hospital.
$5.25 million settlement in a medical malpractice case against an Illinois hospital where the plaintiff, 53-year-old man, underwent a lumbar puncture while he was on aspirin and Lovenox. The plaintiff developed a spinal hematoma and is a quadriplegic as a result.
$2.7 million settlement on behalf of a 37-year-old woman whose MRI was misread by a doctor at an Illinois hospital, and she ended up suffering a stroke.
Professional Service
Chip is a member of the invitation-only, American College of Trial Lawyers and is Past President of The Society of Trial Lawyers. He has served as President of the Trial Lawyers Club of Chicago and is a member of the Chicago Bar Association, Illinois State Bar Association, American Bar Association, Illinois Trial Lawyers Association, and the American Association for Justice.
In 2014, Chip was selected as Chicago Medical Malpractice Lawyer of the Year by Best Lawyers, which has also named him to Best Lawyers in America every year since 2012.
Selected by his peers for membership in Illinois Leading Lawyers, an organization of the top 5% of lawyers in Illinois, Chip also has an AV rating - the highest level awarded for professional excellence - by the Martindale-Hubbell Law Directory.
In 2022, Chip was selected to Illinois Super lawyers for the 18th consecutive year. He frequently lectures for the Illinois Trial Lawyers Association on discovery tactics and trial practice, and has taught medical-legal seminars across the country.
Honors
Chicago Medical Malpractice Lawyer of the Year by Best Lawyers, 2014
Named to The Best Lawyers in America, 2012-2022
The Society of Trial Lawyers, President, 2008-2009
American College of Trial Lawyers, Fellow, Invitation Only
Trial Lawyers Club of Chicago, President, 1993-1994
Leading Lawyers Network Member, Top 5% of Illinois Lawyers
Illinois Super Lawyer, Top 5% of Illinois Lawyers
AV Rated - Highest Level - Martindale-Hubbell Law Directory
Lawdragon 500 Leading Lawyers in America, 2019-present
Lawdragon 500 Leading Plaintiff Consumer Lawyers, 2019-present
Professional Affiliations
American Bar Association (ABA)
American College of Trial Lawyers (ACTL), Fellow
American Association of Justice, formerly known as Association of Trial Lawyers of America (ATLA)
Chicago Bar Association (CBA)
Federal Trial Bar
Illinois State Bar Association (ISBA)
Illinois Trial Lawyers Association (ITLA)
The Society of Trial Lawyers, President, 2008-2009
Trial Lawyers Club of Chicago, President, 1993-1994
Community Involvement
Forbeck Pediatric Cancer Research Foundation, Board of Trustees, Former Chairman of the Board
Misericordia Home, Volunteer
Barrington Bandits Travel Softball Team, Coach
St. Anne Basketball Team, Coach
Carmel Catholic High School, Patron
News
Attorney-Authored Articles
Proving and Disproving Damages in Personal Injury Cases

Illinois Institute of Continuing Legal Education

,

12.1998
Speaking Engagements and Presentations
"Dealing with Common Defenses," Medical Malpractice Seminar, Illinois Trial Lawyers Association, 2014
"Damages in Medical Malpractice Cases," Medical Malpractice Seminar, Illinois Trial Lawyers Association, 2009
"Common Defenses in Medical Malpractice Cases," Medical Malpractice Seminar, Illinois Trial Lawyers Association, 2008
"Screening the Case," Medical Malpractice Seminar, Illinois Trial Lawyers Association, 2005
"Common Defense Tactics," Birth Trauma Litigation Group, Association of Trial Lawyers of America, 2005
"Avoiding the Risks of Medical Malpractice," Georgia State Orthopedic Society, 2005
"Common Defenses," Medical Malpractice Seminar, Illinois Trial Lawyers Association, 2004
"Deposition Strategy," Taking and Defending Depositions in State and Federal Court Seminar, Chicago Bar Association, 2003
"Knowing When To Say No," Medical Malpractice Seminar, Illinois Trial Lawyers Association, 2003
"Neuroimaging: The Latest Developments in Determining the Etiology and Timing of the Events Leading To Irreversible Brain Damage," Reducing the Risk of Obstetric Malpractice Seminar, American Conference Institute, 2003
"How to Depose a Medical Expert," Illinois Institute for Continuing Legal Education, 1998
Mock Malpractice Trial for Medical Students, University of Illinois, 1993
"Depositions," Illinois Trial Lawyers Association, 1992
"Discovery Tools and Tactics for the Personal Injury Lawyer," Illinois Institute for Continuing Legal Education, 1990
"Illinois Civil Discovery Practice," Illinois Institute for Continuing Legal Education, 1998
Major Media Coverage
Chicago Daily Law Bulletin

,

03.15.2019
Education
Education
Northwestern School of Law, Chicago, Illinois, J.D., 1981
St. Norbert College, DePere, Wisconsin, B.A. magna cum laude, 1978
Admissions
Bar &amp Court Admissions
Illinois
Wisconsin
U.S. District Court, Northern District of Illinois
U.S. District Court, Central District of Illinois