The Life and Legacy of Philip H. Corboy
In memoriam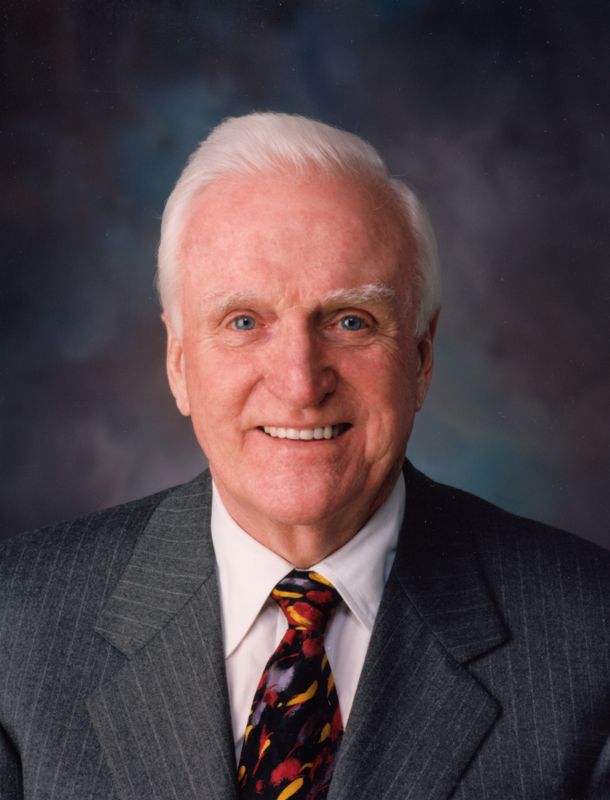 1924-2012
"Phil Corboy was an extraordinary lawyer but an even better human being. His accomplishments in the courtroom pale in comparison to his contributions to his fellow man. His life was long and filled with much love, happiness and success –at all levels. While he'll be missed greatly, his spirit and legacy will live on for generations."
Thomas A. Demetrio on behalf of the attorneys and staff of Corboy & Demetrio
Philip H. Corboy graduated first in his class from Loyola University Chicago School of Law and was sworn into the Illinois bar on January 17, 1949. He promptly became an Assistant Corporation Counsel for the City of Chicago, where he was exposed to municipal law and wrote legal opinions requested by city officials and influential civic groups. It wasn't long before he first impacted the law when an ordinance he drafted, backed by legal opinion, prohibiting smoking in public elevators, was passed by the Chicago City Council. Exactly one year after receiving his license, he argued his first case on behalf of the City of Chicago before the Illinois Supreme Court at age 26. He won the case. He was on a professional roll. James Dooley, recognized as the dean without peer of plaintiffs' personal injury trial lawyers, singled out Corboy and asked him to recommend someone in his age group to work for him. Although he knew almost nothing about that discipline of the legal profession, Phil jumped at the chance and recommended himself.
In November of 1950, he tried his first jury trial. The rest is history. That history includes his involvement in every major airplane disaster since the 1950s and his representation of the families of the Tylenol poisoning victims, which led to tamper-resistant packaging for pain relievers.
A nationally-acclaimed trial lawyer, Philip H. Corboy was a champion of the injured, a pioneer in the area of personal injury law and a relentless lobbyist against tort reform. He was as generous as he was successful and he was very successful.
He represented thousands of clients for more than 60 years and was proud and honored to represent people who placed their destinies in his hands. As he once said "to have an opportunity to do the right thing for each client is why I remained a trial lawyer." Representing injured people in genuine need of advocacy consumed him. He knew there were people who needed him. His mentoring and training honed the trial skills of countless attorneys who practiced law under his tutelage. In fact, the firm has served as a training ground for many top-notch personal injury trial lawyers in Chicago and has earned the nickname the Corboy College of Law.
A devout family man who considered all of his coworkers to be part of his extended family, Phil never hesitated to reach out to anyone in need. From an employee who needed his guidance to a homeless person on the street or a tragedy-stricken family across the country, his love for mankind and his unique ability to connect with individuals in need and from all walks of life is unmatched.
When asked about his legacy, Phil said "personal injury trial lawyers are in the rare position of being able to level the playing field to help people in the war against organized money: insurance companies, corporations, healthcare providers, common carriers, manufacturers, and all levels of government."
Phil Corboy passed away on June 12, 2012 at the age of 87.
His death was widely covered by media.
Here are a few of those stories.
"Corboy, a legal giant, dies today" Chicago Daily Law Bulletin June 12, 2012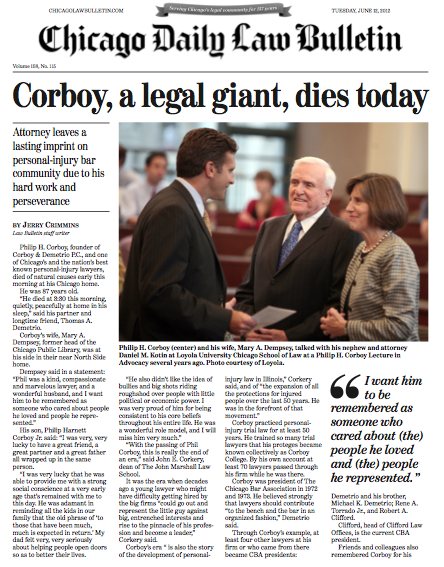 "Friends and family react to death of one of their own" Chicago Daily Law Bulletin June 12, 2012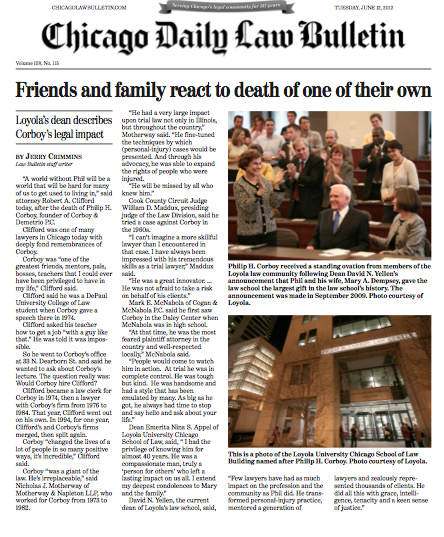 "People laud Corboy's Giving" Chicago Daily Law Bulletin June 18, 2012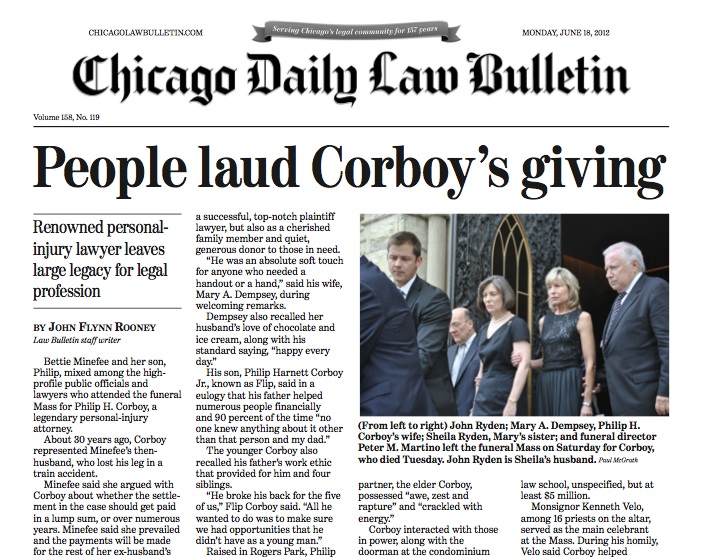 Statement of Governor Pat Quinn on Philip H. Corboy
Statement of Thomas A. Demetrio on behalf of Corboy & Demetrio on June 12, 2012
Statement of Mary Dempsey on June 12, 2012
"Philip H. Corboy's Way: Tributes to a Legend" CBA Record September 2012